Roasted Cauliflower Soup
If you're into the cauliflower craze, you'll probably enjoy this roasted cauliflower soup. Because it's made with cashews, it's dairy-free and vegan.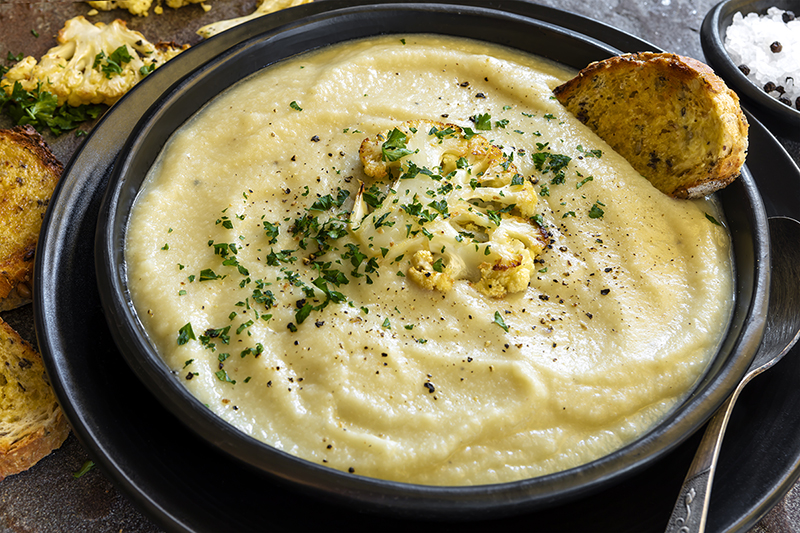 Prep time: 30 minutes
Cooking time: 40 minutes
Servings: 6
Ingredients
1/2 cup cashews
2 heads cauliflower (about 14 cups of florets)
5 cloves garlic
3 tbsp. olive oil or avocado oil
salt and pepper to taste
1 onion large, diced
6 cups water
1 tbsp. vegetable bouillon
1 tsp. lemon juice
1/2 tsp. thyme or 1 tablespoon fresh thyme
1/8 tsp. red pepper flakes
Related: Creamy Avocado Pasta
Instructions
1. Preheat the oven to 425º F.
2. Add cauliflower and peeled garlic cloves to a baking sheet. Drizzle with 2 tablespoons olive oil and season with salt and pepper.
3. Roast cauliflower and garlic in the oven for 30 minutes until the cauliflower has started to brown around the edges.
4. While the cauliflower is roasting, add 1 tablespoon of olive oil to a large soup pot, and sauté the diced onions for 12-15 minutes over medium heat, stirring to prevent over browning. The onions should be a light caramel color (because overbrowning the onions will turn the soup brown).
5. Add water and vegetable bouillon to the pot, along with the cashews, roasted cauliflower, and garlic.
6. In batches, process the soup in a blender. Process on high speed until the soup is very creamy (approximately two minutes for super smooth soup).
7. Return soup to the pot and season with thyme, lemon juice, and salt and pepper, if desired.
8. Refrigerate leftovers for up to 3 days or freeze in sealed containers for up to 3 months.


Related: Broccoli Cheese Soup
Nutrition Facts (per serving): Calories: 181; Fat: 12 g; Protein: 6; Carbohydrates: 15 g; Sodium: 83 mg; Fiber: 5g

While you're here, check out other recipes and information on nutrition and diet. For information on our medical and dental plans, visit selecthealth.org/plans.


Select Health may link to other websites for your convenience. Select Health does not expressly or implicitly recommend or endorse the views, opinions, specific services, or products referenced at other websites linked to the Select Health site, unless explicitly stated.
The content presented here is for your information only. It is not a substitute for professional medical advice, and it should not be used to diagnose or treat a health problem or disease. Please consult your healthcare provider if you have any questions or concerns.
Reference: "Sunkissed Kitchen." Roasted Cauliflower Soup, 2019. Web. 25 Feb. 2020. <https://sunkissedkitchen.com/cauliflower-soup/>