Creamy Avocado Pasta
If you're craving pasta, make this healthier version that pairs whole wheat noodles and avocado sauce, which provide more fiber and healthy fat.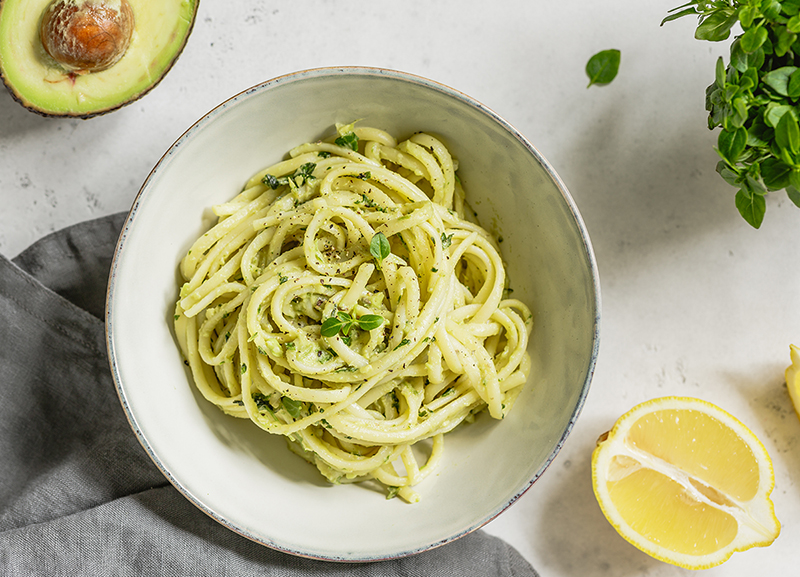 Prep time: 15 minutes
Makes 4 servings
Ingredients
1 package whole wheat spaghetti
1 red onion, thinly sliced
2 ripe avocados
2 tbsp. lime juice
1 tbsp. garlic
¼ cup cilantro, chopped
2 tsp. black pepper
1 cup jarred roasted bell peppers, drained
Instructions
1. Prepare pasta according to package directions. With 2 minutes left in cooking time, add red onion. Drain pasta, reserving 1 cup of pasta water and returning pasta to pot.
2. Meanwhile, prepare avocado sauce. Combine avocado, lime juice, garlic, cilantro, and black pepper in a food processor. Process until smooth. You may want to add some pasta water (in one tablespoon increments) to achieve desired consistency.
3. Add avocado sauce to pot with pasta and onion and mix well to coat noodles. Stir in roasted bell peppers and serve immediately.
Nutrition Facts (per 1½ cups) Calories: 580; Fat: 17 g; Protein: 18 g; Carbohydrates: 97 g; Dietary fiber: 22 g; Sodium: 140 mg
Related: Baked Salmon with Lemon Dill Sauce
For information on our medical and dental plans, visit selecthealth.org/plans. And while you're here, check out other recipes and information on nutrition and diet.
Reference: Intermountain Health. "Creamy Avocado Pasta," 2015. Cooking Your Weigh to Health. PDF file.