Chili Lime Grilled Salmon with Mango Avocado Salsa
This delicious grilled salmon recipe is fresh and easy to make—perfect for a family dinner.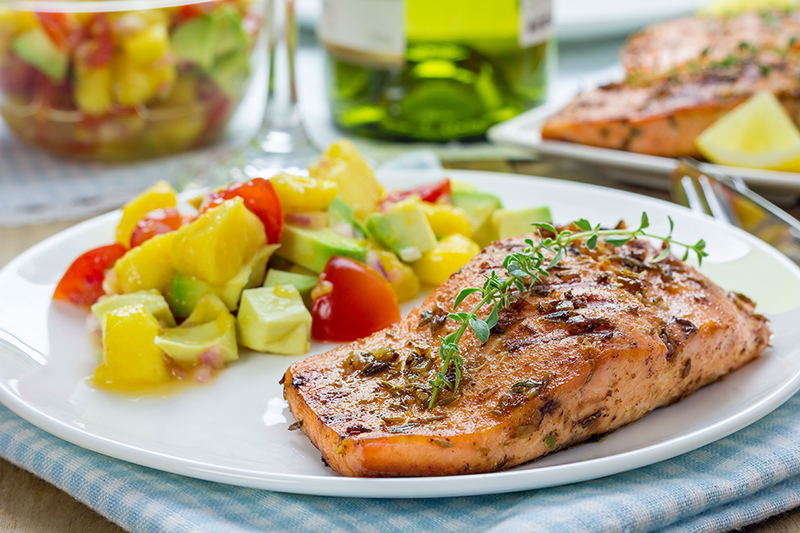 Prep time: 10 minutes
Cook time: 10 minutes
Serves: 4

Ingredients
Chili Lime Salmon
4 (4 oz.) salmon filet, skin on
1 tsp. fresh lime zest
1/2 tsp. smoked paprika
1/4 tsp. ancho chili powder
1/4 tsp. garlic powder
1/4 tsp. sea salt
1 tbsp. lime juice
1 tbsp. avocado oil
Mango Avocado Salsa
3/4 cup diced mango
2 avocados, diced
1/4 cup red onion, diced
1/4 cup fresh cilantro, chopped
1 1/2 tbsp. jalapeno, diced
1 tbsp. red wine vinegar
juice of 1 lime
salt to taste


Instructions

1. Preheat grill to medium-high heat, about 375-400 degrees F.
2. In a medium bowl add diced mango, avocado, red onion, cilantro, jalapeno, red wine vinegar, lime juice, and salt. Gently stir ingredients together until everything is mixed. Set aside.
3. In a small bowl, add fresh lime zest, smoked paprika, ancho chili powder, garlic powder, salt, lime juice, and avocado oil. Stir together using a spoon.
4. Rub on spice blend the flesh side of the salmon.
5. Make sure that grill grates are clean to ensure the fish does not stick. Spray grill grates with cooking spray or rub down with an olive oil-soaked rag.
6. Place salmon skin side down first. Grill for 4-5 minutes (do not touch it during that time).
7. Gently flip the fish using a spatula (fish should not stick to the grill grates, if it does, then you need more cook time). Grill on flesh side for another 4 minutes. Remove from grill and let rest.
8. Serve salmon filets with mango avocado salsa.
Related: Baked Salmon with Lemon Dill Sauce

Nutrition Facts (per serving): Serving size: 1 salmon filet + salsa| Calorie 381| Sugars 6g| Sodium 219g| Fat 23g| Saturated Fat 2g| Carbohydrates 14g| Fiber 6g| Protein 30g| Cholesterol 0mg


Reference: Rollins, Krista. Chili Lime Grilled Salmon with Mango Avocado Salsa. Joyful Healthy Eats. 8 May 2019, https://www.joyfulhealthyeats.com/easy-chili-lime-grilled-salmon-with-mango-avocado-salsa/