Butternut Squash Risotto
It may sound fancy, but this dish is easy to prepare! This recipe is a great option when you want something comforting on a cold winter's day.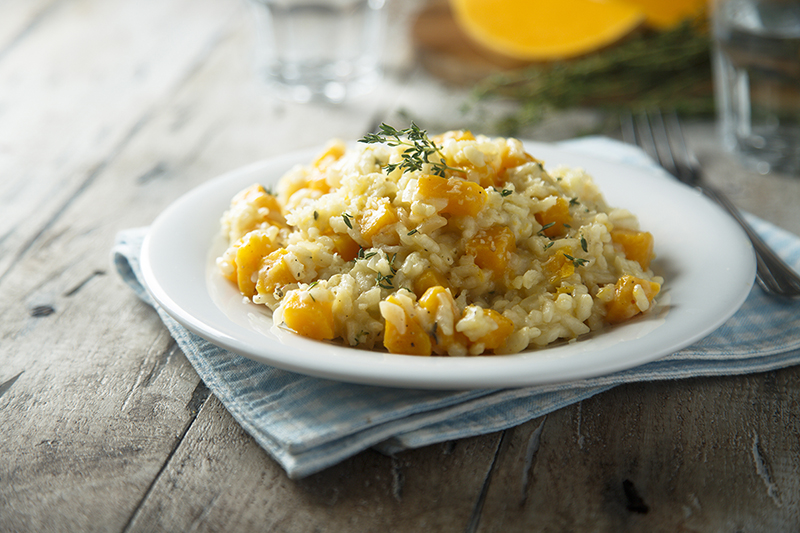 Prep time: 5 minutes
Cooking time: 35 minutes
Serves: 6
Ingredients
4 cups butternut squash
1 clove garlic
2 shallots
2 tbsp. butter
12 oz. Arborio rice
6 cups chicken stock
3 sprigs thyme
1 tbsp. mascarpone (or cream cheese)
1 cup Parmesan cheese, grated
Olive oil, to coat the pan
Salt and pepper to taste
Instructions
1. Finely chop the shallot and garlic. Cut squash into small cubes.
2. Heat olive oil in a large pan on medium heat. Once the pan is hot, add the shallot and sauté until translucent. Add the squash, butter, and thyme. Sauté on medium heat, stirring often until soft (around 10 minutes).
3. Add the garlic and sauté for about one minute until fragrant and softened.
4. Add the rice and stir to coat. Add a few ladles of chicken stock until the rice is just covered. Stir until the rice absorbs the liquid and add another ladle. Continue adding the chicken stock slowly until you've used added all six cups.
5. Let rice simmer until soft. The mixture should be thick and creamy.
6. Turn off the heat and add the mascarpone, Parmesan, and salt and pepper. Stir until fully mixed and serve.

Nutrition Facts (per ¼ cup): Calories: 623; Fat: 17 g; Protein: 23; Carbohydrates: 104 g; Cholesterol: 0 mg; Sodium: 87 mg

Related: Butternut Squash Linguine

And while you're here, check out other recipes and information on nutrition and diet. For information on our medical and dental plans, visit selecthealth.org/plans.
Select Health may link to other websites for your convenience. Select Health does not expressly or implicitly recommend or endorse the views, opinions, specific services, or products referenced at other websites linked to the Select Health site, unless explicitly stated.
The content presented here is for your information only. It is not a substitute for professional medical advice, and it should not be used to diagnose or treat a health problem or disease. Please consult your healthcare provider if you have any questions or concerns.
Reference: "Butternut Squash Risotto with Thyme." Inside the Rustic Kitchen, 2019. Web. 17 Jan. 2020. <https://www.insidetherustickitchen.com/squash-risotto/>