Fresh Fruit Smoothies
Chef Mary shows you how to make healthier and less expensive smoothies your kids will love by, using fresh frozen fruit and reduced-sugar orange juice.
Use any combination of fresh fruit you freeze or frozen purchased fruit totaling 6 cups.
You can also omit bananas, which are the highest in calories; however, they make the texture creamier.
Yield:
six 12-oz servings
3 cups orange juice not from concentrate, 50% less sugar and calories
2 to 3 cups fresh or frozen pineapple chunks, peach slices, or mango chunks
2 to 3 cups fresh or frozen strawberries, blueberries, raspberries, or blackberries
2 cups frozen banana chunks (2 medium bananas)
1 to 4 packages Stevia zero-calorie sweetener (optional)
Related: Easy Chickpea Salad with Lemon and Dill
1. If using frozen fruit, skip to step 3. To prepare fresh pineapple, remove crown and bottom, and then slice off rind lengthwise. Quarter pineapple, then remove core slicing lengthwise from top to bottom. Slice pineapple crosswise into quarter 1-inch slices. Peel fresh peaches and/or mangos and cut into 2-inch chunks. Slice bananas into 2-inch chunks. Wash and core fresh strawberries, then drain dry on paper towels. All other berries rinse and stem, if necessary, then drain dry on paper towels.
2. Place fruit on baking sheets in a single layer, cover with plastic wrap, and freeze until solid, 30 to 60 minutes. After frozen, transfer fruit to freezer bags or plastic covered containers. (Fruit must be frozen in separate pieces before put into containers or it will stick together.)
3. To make smoothies place juice, fruit, and sweetener if using, in blender or food processor and process until smooth about 60 seconds. (If fruit is too hard to process, allow it to soften for 1 or 2 minutes before continuing.)
4. Serve or cover and chill for up to 1 hour before serving. Smoothies are best served immediately after blending.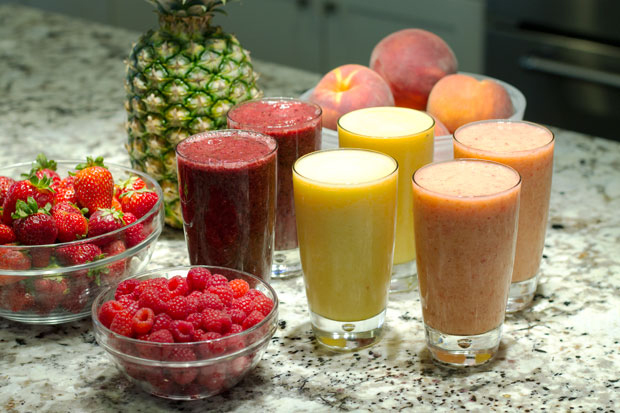 Nutritional Information: 12-oz serving 80 to 136 Calories depending on juice and combination of fruit used; 0 to 1g Fat; 20g to 35g Carbohydrate; 15g to 25g Total Sugars; 3g to 9g Dietary Fiber; 1g to 2g Protein; 0 Cholesterol; 6mg to 10mg Sodium.
Nutritional Information Jamba Juice® 9.5-oz Classic smoothies 270 to 320 Calories; 0 to 5g Fat; 61g to 80g Carbohydrates of which 50g to 79g are Total Sugars
Related: Light Gingerbread Spice Bundt Cake