What to Eat for the Midnight Munchies
Trying to eat healthier doesn't mean giving up late-night snacks. Swap out some of your favorite treats with these healthy pleasures.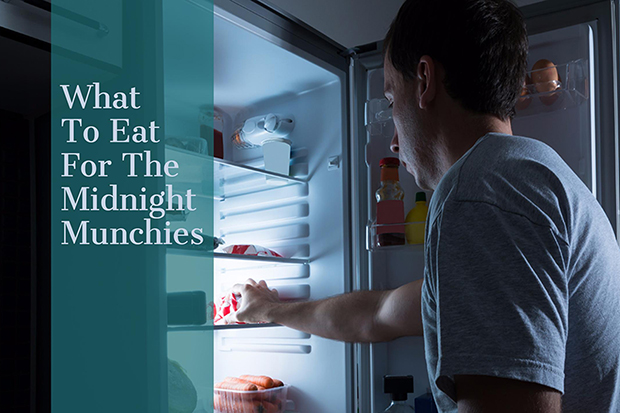 When you're craving something crunchy or sweet late at night, you don't usually make the best decisions. We've got a few delicious alternatives that can satisfy your hankering minus the next morning's remorse when you fully reflect on what you've done.
So, next time you're reaching for potato chips and ice cream, consider some of these better alternatives.
Spiced popcorn
The problem with microwave popcorn is it's typically loaded with butter and salt. Make your own lighter popcorn and test out some of these fun new takes on popcorn recipes.
Hummus and veggies
It's hard to go wrong with hummus and veggies. They get you an extra serving of vegetables (which, honestly, most of us aren't eating enough of) and fill you up fast. Hummus is also high in fiber and protein.
Roasted chickpeas
If you haven't tried this, it's time. Roasted chickpeas are a delicious, savory treat.
Avocado toast
There's a good reason avocado toast is so popular—it's delicious. Avocados provide healthy fat your body needs, as well as a lot of vitamins. Not only is it delicious as a snack, it's also a quick and easy meal to prepare.
Edamame
Edamame is a soybean harvested before it's pulled out of the pod. You can buy them in the frozen section of most grocery stores. They are amazing snacks because with just a minute or two in the microwave and a dash of salt, they are ready. They also provide protein, fiber, carbs, calcium, magnesium, and a whole bunch of other minerals.
Energy bites sweetened with honey or agave
If you're craving something sweeter, try making a batch of these delicious energy bites. Made with flaxseed, peanut butter, and honey, they freeze well to save for other days when you just need a little something to satisfy your sweet tooth.
Tomatoes and mozzarella
Buy some fresh mozzarella and eat it with some pepper and a slice of tomato—it's simple and delicious. Add a bit of basil and it's like eating a healthier version of a margherita pizza.
Kale chips
Mix kale leaves with in a bit of olive oil and salt, then bake on a cookie sheet at 350 degrees until the edges of the leaves are slightly brown. If you need the crunch of a potato chip, these might do the trick.
Easy homemade frozen yogurt
Grab your blender, your fav fruit, and some yogurt, and within minutes, start savoring a healthier frozen treat, like this one.
When that late night hunger strikes, go for a fresher fix. Your body will thank you!
Related: Healthy Snacks For When You Crave Something Crunchy