Easy Chickpea Salad with Lemon and Dill
We've got a simple side dish using the nutritional powerhouse: the chickpea. This will be your new favorite make-ahead salad.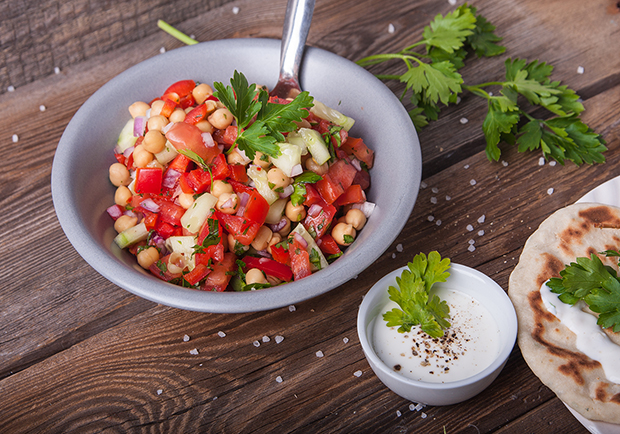 Need something to go with dinner? We've got a simple recipe using our new-found friend, the chickpea. You can easily put together this healthy side dish in about 10-15 minutes.
Easy Chickpea Salad with Lemon and Dill
Makes 6 (½ cup) servings
2 (15 oz.) cans chickpeas
1 medium English cucumber
6 small tomatoes
1 ½ ounces feta cheese
½ cup fresh lemon juice (1 large lemon)
¼ cup extra virgin olive oil
1 tsp. Dijon mustard
½ tsp. honey
¼ cup fresh dill, coarsely chopped
Salt and pepper, to taste
Directions
Open, drain, and rinse the chickpeas, then add to a large bowl. Cut the cucumbers into quarters, lengthwise, and then chop into bite-size pieces. Cut the tomatoes into small wedges. Add the cucumbers and tomatoes to the chickpeas and add feta cheese crumbles on top.
In a separate medium bowl, make the dressing. Whisk lemon juice, olive oil, mustard, honey, and the fresh dill together, then season with salt and pepper. Pour the dressing over the salad and toss ingredients together.
Chef's note: You can make this salad a day ahead of your big party, but you might hold off on adding the tomatoes, as they wilt quicker than cucumbers. But you can easily cut them and add them to the salad right before serving.
Nutrition Facts: Serving Size 1/2 cup; Calories 276; Protein 10 g; Carbohydrate 30 g; Dietary Fiber 8 g; Total Sugars 8 g; Total Fat 14 g; Saturated Fat 3 g; Cholesterol 8 mg
Related: carne asada with salsa verde fresca
Reference: "Easy Chickpea Salad Recipe with Lemon and Dill." Inspired Taste, 2017. Web. 21 Aug. 2017.