Light Key Lime Pie
This easy and elegant dessert lends a light, refreshing finish to any summertime event.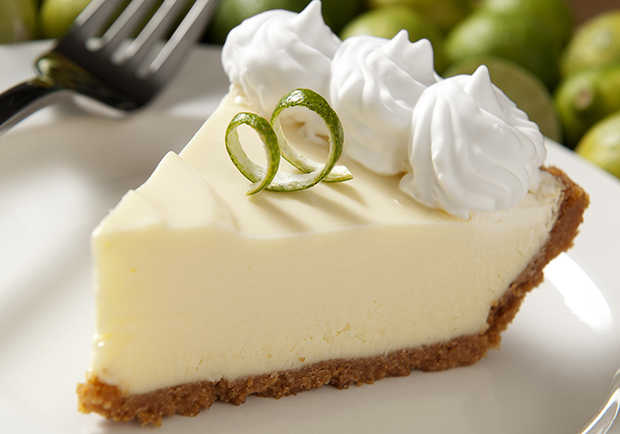 Yield: 16 servings
Light Graham Cracker Crust
Butter flavored or regular nonstick cooking spray (use non-aerosol if pie pans have a nonstick coating)
12 whole graham crackers, broken in fours
¼ cup sugar
¼ cup plus 1 tbsp. salted butter, melted
1. Preheat oven to 325 F. Lightly spray bottom and sides of a deep-sided 9- or 10-inch pie pan with cooking spray and set aside. Process crackers in food processor until crumbs form. Add sugar and butter and process, scraping down bowl once or twice to make sure crumbs are thoroughly moistened.
2. Pour mixture into pan and firmly pat crumbs evenly over bottom and up sides of pan. Bake crust 12 to 15 minutes. Remove from oven and cool on wire rack to room temperature, about 1 hour.
Related: Dark Chocolate Chickpea Brownies
Key Lime Filling
2 14-oz. cans fat-free sweetened condensed milk
6 egg yolks
2/3 cup freshly squeezed Key lime juice 2 tbsp. freshly squeezed lemon juice
1 to 3 tsp. grated lime zest (use a regular lime, the key lime zest is too bitter)
32 tbsp. real whipped cream made from a whipped cream dispenser or any canned whipped cream including almond or coconut varieties – optional (this will add 0.5 to 1g fat to each slice)
1. Leave oven at 325 F. While crust is cooling, whisk condensed milk together in a medium bowl with yolks, juices, and zest until smooth and thickened—about 4 to 5 minutes. Mixture will lighten to a pale yellow. Loosely cover bowl and set aside.
2. Every several minutes, whisk custard gently to give any trapped air bubbles the opportunity to burst and allow the mixture to continue to thicken.
3. Pour custard slowly into the prepared crust, smoothing out top with a spatula. Bake 20 to 25 minutes. Remove from oven and cool on rack to room temperature, 1 to 2 hours. Pie will continue to set as it cools. Cover pie loosely and chill 3 hours or overnight.
4. If desired, top pie with more lime zest and garnish slices with 2 tbsp. whipped cream before serving.
Related: Light Gingerbread Spice Bundt Cake
Cook's Note: Can't find Key limes? Substitute ¾ cup regular lime juice and omit the lemon juice. Key limes are smaller, tarter, and more acidic than regular limes. The use of lemon juice in the recipe neutralizes the slight acidic bite.
Make Ahead Tip: Pie (without whipped cream) can be covered, and chilled for up to two days.
Nutritional Information: 1 piece 250 Calories; 6g Fat; 45g Carbohydrate; 0 Fiber; 7g Protein; 79mg Cholesterol; 157mg Sodium
Select Health may link to other websites for your convenience. Select Health does not expressly or implicitly recommend or endorse the views, opinions, specific services, or products referenced at other websites linked to the Select Health site, unless explicitly stated.
The content presented here is for your information only. It is not a substitute for professional medical advice, and it should not be used to diagnose or treat a health problem or disease. Please consult your healthcare provider if you have any questions or concerns.