10-Minute Healthy Tuna Melt Sandwich
Using Greek yogurt inside the sandwich instead of mayonnaise and adding more veggies help make this a healthy sandwich option.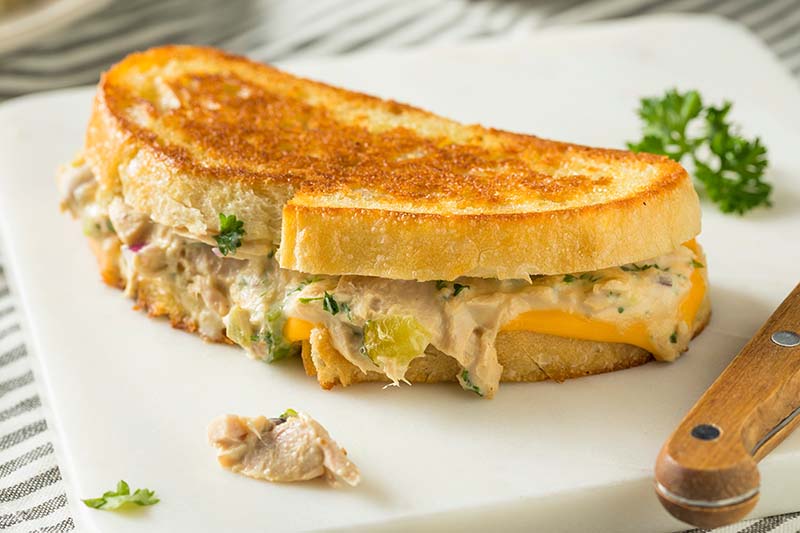 Prep time: 5 minutes
Cooking time: 5 minutes
Serves: 2
Ingredients
1 5-oz. can no-salt-added water-packed tuna, drained
1 small celery stalk, chopped
2 tbsp. chopped jarred roasted red pepper
1 scallion, minced
3 tbsp. low-fat plain Greek yogurt
1 tsp. Dijon mustard
¼ tsp. ground pepper
4 tsp. mayonnaise or softened butter
4 slices of whole-grain bread
2 slices of sharp Cheddar cheese
Instructions
Stir tuna, celery, roasted red pepper, scallion, yogurt, mustard, and pepper together in a medium bowl until well blended.
Spread 1 teaspoon of mayonnaise or butter on one side of each slice of bread.
Flip 2 of the slices and top each with half of the tuna mixture, 1 slice of cheese, and another slice of bread, mayonnaise side up.
Heat a large skillet over medium heat.
Place the sandwiches in the pan and cook, turning once, until the cheese is melted, and the bread is golden, about 3 to 5 minutes per side.
Serve immediately.
Nutrition Facts (per Serving): Calories: 382 cal | Carbohydrates: 29g | Protein: 34g | Fat: 13g | Saturated Fat: 6g | Cholesterol: 50mg | Sodium: 675mg | Fiber: 5g | Sugar: 5g

Related: Healthy Baked Carrot Chips

Reference: "10-Minute Tuna Melt." Eating Well, https://www.eatingwell.com/recipe/7907251/10-minute-tuna-melt/.