Grapefruit and Rosemary Spritzer
This light and refreshing drink, made with grapefruit and rosemary, is perfect for an outdoor summer gathering—or, anytime you're in the mood for a sparkling beverage.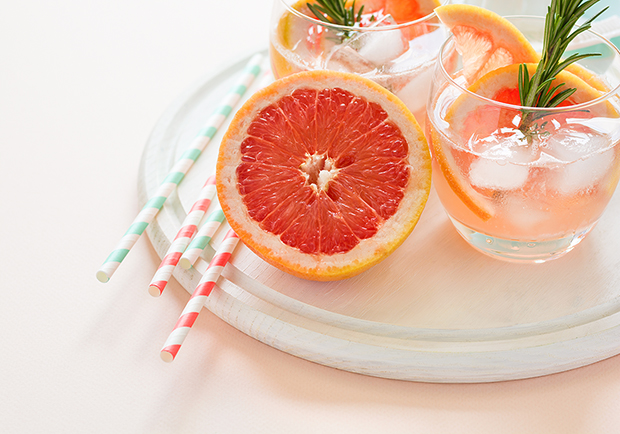 Prep time: 1 hour
Yields 4 drinks
Ingredients
Rosemary simple syrup:
1 cup water
1 cup granulated sugar
3 sprigs rosemary
Related: Fresh Fruit Smoothies
Split between 4 glasses:
2 cups fresh pink grapefruit juice
4 cups sparkling water
¼ cup rosemary simple syrup
Instructions:
1. To make the rosemary simple syrup: Add water and sugar to small sauce pan over medium heat. Dissolve the sugar for about five minutes. Do not let the mixture boil, or crystals will form.
2. Once the sugar has dissolved, pour the simple syrup into a heat-safe container. Add sprigs of rosemary and let steep for at least one hour. The syrup will keep in the refrigerator for ten days.
3. Add per glass: ½ cup fresh pink grapefruit juice and 1 tablespoon rosemary simple syrup; stir. Add one cup of sparkling water.
4. Serve chilled. Garnish with rosemary sprig (optional).
Nutrition Facts (per serving): Calories: 242; Carbohydrates: 61 g; Fat: 0 g; Protein: 0.5 grams; Sodium: 2 mg
Select Health may link to other websites for your convenience. Select Health does not expressly or implicitly recommend or endorse the views, opinions, specific services, or products referenced at other websites linked to the Select Health site, unless explicitly stated.
The content presented here is for your information only. It is not a substitute for professional medical advice, and it should not be used to diagnose or treat a health problem or disease. Please consult your healthcare provider if you have any questions or concerns.
Reference: "Grapefruit and Rosemary Cocktail." Place of My Taste, 2015. Web. 11 May. 2018.