Healthy Baked Carrot Chips
These crunchy chips make a great gluten-free and low-fat snack.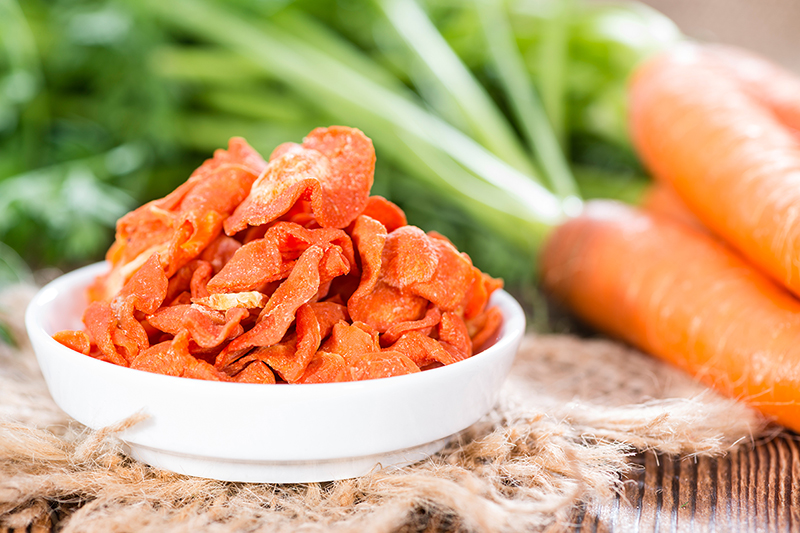 Prep time: 20 minutes
Cooking time: 20 minutes
Serves: 8
Ingredients
2 lbs. carrots (pick the fattest carrots)
¼ cup olive oil or melted coconut oil
1 tbsp. sea salt
1 tsp. ground cumin
1 tsp. ground cinnamon
Instructions
1. Preheat oven to 425°F and line several baking sheets with parchment paper.
2. Trim the carrot tops off. Starting on the thick end, slice the carrots paper thin on the bias to create elongated slices.
3. Place the carrot slices in a large bowl and add the oil, salt, cumin, and cinnamon. Toss well to thoroughly coat.
4. Lay slices in a single layer on the baking sheet.
5. Bake for 12 to 15 minutes, until the edges begin to curl up and turn crisp.
6. Flip all the chips over and bake for another 5 to 8 minutes.
7. Store chips in airtight container for up to 2 weeks.
Nutrition Facts (per Serving): Calories: 170kcal | Carbohydrates: 11g | Protein: 1g | Fat: 7g | Saturated Fat: 0g | Cholesterol: 0mg | Sodium: 950mg | Potassium: 367mg | Fiber: 3g | Sugar: 5g

Related: Healthy Snacks for When You Crave Something Crunchy
Reference: "Healthy Baked Carrot Chips." A Spicy Perspective, https://www.aspicyperspective.com/healthy-baked-carrot-chips/.