Family Friendly Sparkling Sangria
Impress your guests with this colorful, yet simple sparkling drink that's perfect for a special dinner—plus, the whole family can enjoy this version.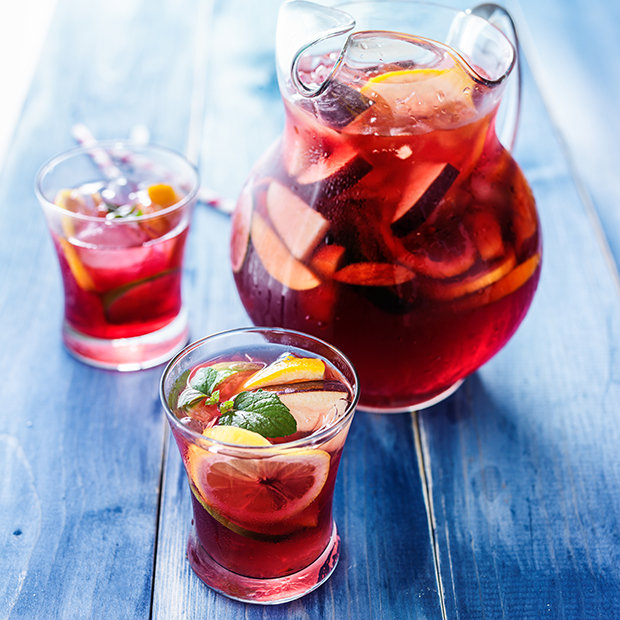 Prep time: 10 minutes
Serves 8
Ingredients
1 lemon, sliced with peel
1 lime, sliced with peel
1 apple, cored and sliced with peel
3 cups grape juice
¾ cup apple juice
¾ cup orange juice
1 ½ tbsp. lemon juice
2-3 cups sparkling water
1. Clean and cut up all the fruit. Add to a glass pitcher.
2. Add grape, apple, orange, and lemon juice. Gently mix.
3. Refrigerate at least one hour, but preferably 4-6 hours.
4. Right before serving, add the sparkling water. Gently mix together and serve.
Nutrition Facts (per serving): Calories: 104; Carbohydrates: 26; Fat: 0 grams; Protein: 0 grams; Sodium: 31 mg
Related: Grapefruit and Rosemary Spritzer
Select Health may link to other websites for your convenience. Select Health does not expressly or implicitly recommend or endorse the views, opinions, specific services, or products referenced at other websites linked to the Select Health site, unless explicitly stated.
The content presented here is for your information only. It is not a substitute for professional medical advice, and it should not be used to diagnose or treat a health problem or disease. Please consult your healthcare provider if you have any questions or concerns.
Reference: "Family-friendly Sangria." I Heart Naptime, 2016. Web. 10 July 2018. <https://www.iheartnaptime.net/family-friendly-sangria/>