Chicken and Broccoli Stir Fry
Try this quick stir fry recipe made with chicken and broccoli and a delicious sauce to pull it all together.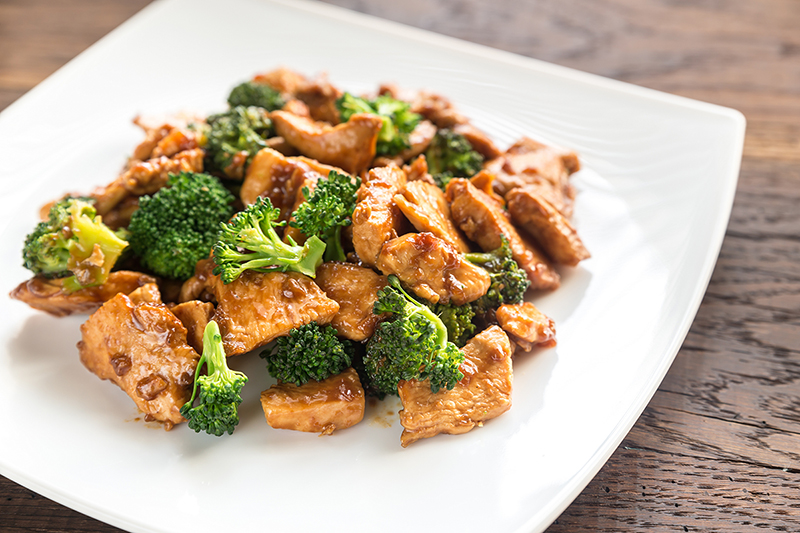 Prep time: 5 minutes
Cook time: 25 minutes
Serves: 3
Ingredients
1 1/2 tbsp. avocado oil
1-pound chicken breast, thinly sliced
2 heads broccoli, florets removed (about 7 cups)
1/2 cup chicken broth
1/2 cup coconut aminos
3 tbsp. lime juice
1 tbsp. sesame oil
3 cloves garlic, minced
1-inch fresh ginger, minced
1/2 tsp. red pepper flakes
salt and pepper, to taste
Instructions
1. In a small saucepan, make the sauce by combining the broth, coconut aminos, lime juice, sesame oil, garlic, ginger, red pepper flakes, and pepper. Bring to a simmer over medium-low heat and let simmer for 20 minutes. Make sure to stir often and watch so it doesn't boil. After about 20 minutes, sauce should be reduced by 2/3 and thickened enough to coat the back of a spoon. Remove from heat and let cool for a minute.
2. When the sauce has about 7-8 minutes left, make the chicken and broccoli. Season the sliced chicken with salt and pepper. Heat a large sauté pan over medium heat, and add oil. Add slices of chicken, without overcrowding, and cook 30-60 seconds per side (depending on how thick you sliced it). Remove from pan and repeat with remaining chicken.
3. Leave the chicken juices in the pan and add broccoli. Cook for 3-5 minutes until tender, if needed, add a little bit of broth. Add the chicken back to the pan and mix to combine. Be careful not to add the chicken juices as this will thin out the sauce.
4. Add in the sauce and mix well until combined and everything is nicely coated. Top with sesame seeds and green onion and serve with your sides of choice.
Related: Corn Tomato Avocado Salad

Nutrition Facts (per serving): Calories: 420kcal | Carbohydrates: 30g | Protein: 37g | Fat: 16g | Saturated Fat: 3g | Fiber: 4g | Sugar: 19g

Reference: "Chicken and broccoli stir fry." Eat the Gains. 6 Oct. 2020, https://eatthegains.com/chicken-and-broccoli-stir-fry/