Immunity Boosting Juice Shots
Need a boost but don't want to spend a fortune? Try these four immunity-boosting shot recipes that are affordable and don't require a juicer!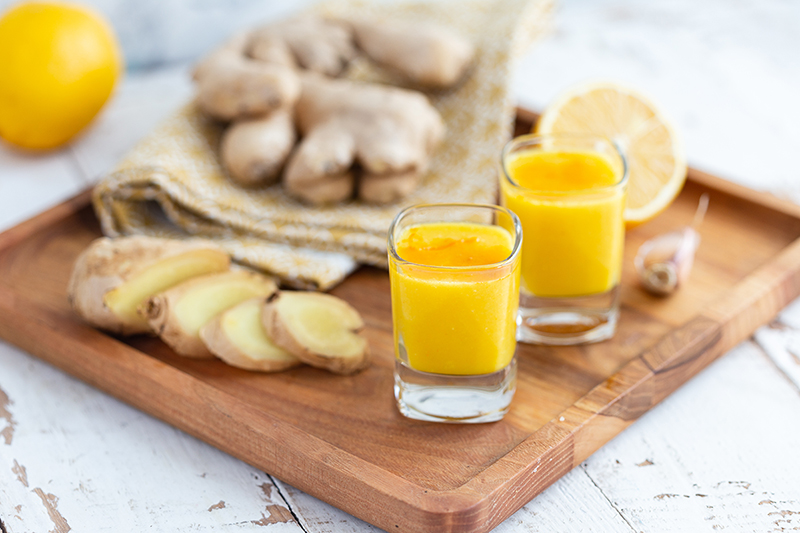 Prep time: 5 minutes
Total time: 5 minutes
Ingredients
Carrot Turmeric Shot
3 carrots
1 lemon, peeled
1″ ginger
½ tsp. turmeric
Beetroot Lemon Shot
1 beetroot, including tops if possible
1 apple
1 lemon, peeled
Leafy Greens Shot
1 lime
1 handful leafy greens (kale or spinach)
1 handful herbs (mint or parsley)
2 sticks celery
1 kiwifruit
Cayenne Ginger Shot
1 lemon, peeled
4″ ginger
pinch cayenne pepper
few tablespoons water
Instructions
1. Peel the citrus fruit and remove apple stem. Leave all other skin on for maximum nutrition.
2. Place in a small jug blender and pulse until blended.
3. You may need to add some water to help blend.
4. Pour into a nut bag or cheesecloth and squeeze all the moisture out.
5. Serve immediately.

Nutrition Facts*: Calories: 114; Fat: 1 g; Protein: 1g; Carbohydrates: 25 g; Sodium: 107 mg;

*will vary slightly depending on type of shot

Related: Green Goodness Smoothie
While you're here, check out other recipes and information on nutrition and diet. For information on our medical and dental plans, visit selecthealth.org/plans.



Select Health may link to other websites for your convenience. Select Health does not expressly or implicitly recommend or endorse the views, opinions, specific services, or products referenced at other websites linked to the Select Health site, unless explicitly stated.
The content presented here is for your information only. It is not a substitute for professional medical advice, and it should not be used to diagnose or treat a health problem or disease. Please consult your healthcare provider if you have any questions or concerns.
Reference: "Nest and Glow." Immunity Shots without a Juicer, 2018. Web. 27 Apr. 2020. <https://www.jennifermeyering.com/cafe-mocha-protein-shake/>