Healthy Peanut Butter Banana Muffins
Naturally sweetened with maple syrup, these peanut butter banana muffins make a great breakfast you can grab and eat on the go.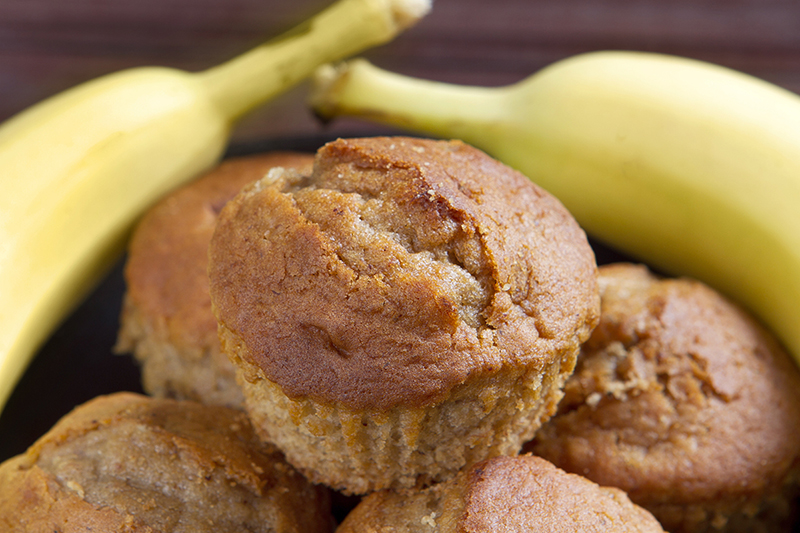 Prep time: 10 minutes
Cook time: 17 minutes
Serves: 12
Ingredients
2 ripe large bananas, mashed
¼ cup pure maple syrup
1/2 cup whole-milk plain Greek yogurt
1 large egg
1/2 cup whole milk
1/2 cup creamy peanut butter
2 tsp. vanilla extract
1 ¾ cups white whole wheat flour
1 tsp. ground cinnamon
1 tsp. baking soda
1 tsp. baking powder
1/4 tsp. salt
Instructions
1. Preheat oven to 425°F degrees. Line a 12-count muffin pan with muffin liners or spray with nonstick spray. Set aside.

2. In a medium bowl, mix the mashed bananas, maple syrup, yogurt, egg, milk, peanut butter, and vanilla together until smooth.


3. In a large bowl, whisk together the flour, cinnamon, baking soda, baking powder, and salt. Pour the wet ingredients into the dry ingredients and stir until just combined. Do not overmix the batter.

4. Evenly distribute the batter between the muffin cups. Bake for 5 minutes at 425°F degrees. Keeping the muffins in the oven, reduce the oven temperature to 350°F and continue to bake for another 12 minutes or until a toothpick inserted in the center comes out clean.
Related: Apple Cinnamon Baked Oatmeal Cups

Nutrition Facts (per serving): Serving: 1Muffin | Calories: 176kcal | Carbohydrates: 25g | Protein: 7g | Fat: 6g | Saturated Fat: 1g | Cholesterol: 15mg | Sodium: 203mg | Potassium: 238mg | Fiber: 3g | Sugar: 8g | Vitamin A: 50IU | Vitamin C: 1.7mg | Calcium: 63mg | Iron: 0.8mg
Reference: Healthy Peanut Butter Banana Muffins. Fox-and-Briar Eat. Drink. Love. 1 Sept. 2020, https://www.foxandbriar.com/healthy-peanut-butter-banana-muffins/


Select Health may link to other websites for your convenience. Select Health does not expressly or implicitly recommend or endorse the views, opinions, specific services, or products referenced at other websites linked to the Select Health site, unless explicitly stated.

The content presented here is for your information only. It is not a substitute for professional medical advice, and it should not be used to diagnose or treat a health problem or disease. Please consult your healthcare provider if you have any questions or concerns.