Chocolate Peanut Butter Banana Bites
These chocolate covered banana bites are great for eating on the go—keep some in the freezer for quick snacking.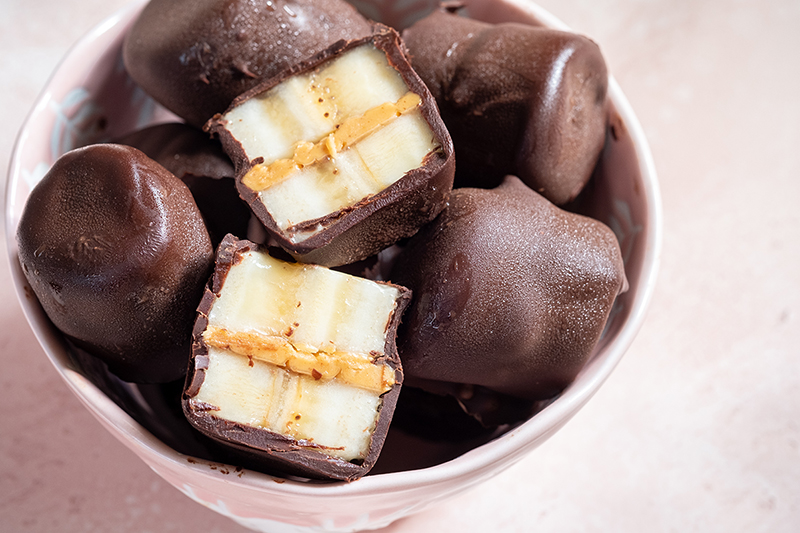 Prep time: 15 minutes
Serves: 30 bites
Ingredients
3 ripe bananas
1/3 cup natural peanut butter
1/2 cup dark chocolate chips
2 tsp. coconut oil
Instructions
1. Peel and slice bananas into rounds about 1/4 inch thick.
2. Line a platter or small baking sheet with parchment paper. Place about 1/2 teaspoon of peanut butter on a banana slice and top with another banana slice to make a little banana peanut butter sandwich. Keep doing this until you've used all banana slices and you have about 30 bites. Place bites on two parchment-lined platters or plates and place in the freezer to harden for about 1 hour.
3. Once banana bites have been in the freezer for at least an hour, melt your chocolate by adding chocolate and coconut oil to a microwave-safe bowl. Microwave for 1 minute, stir and microwave in additional 30-second increments until chocolate is completely melted. This shouldn't take more than 2 minutes of microwave time.
4. Once chocolate is melted, remove one platter of your frozen banana bites from the freezer. Dip each frozen banana bite into the melted chocolate so that half of each bite is coated. You can coat the full bite with chocolate, but you'll need more chocolate chips if you want to do this.
5. Place chocolate covered bites back on the parchment-lined platter; place back in freezer to harden, grab your second platter and continue until all the bites have been dipped. Let both platters of chocolate covered bites harden in the freezer for about 15 minutes.
6. Store bites in a freezer-safe container for up to tow months. Let thaw for about five minutes before eating.
Related: Clean Eating Apple Pie Oatmeal

Nutrition Facts (per serving): 2 bites: Calories: 99; Sugar: 7g; Sodium: 28mg; Carbohydrates: 12g; Fiber: 2g; Protein: 2g

Reference: Mullins, Brittany. "Peanut Butter Banana Bites." Eating Bird Food, 6 July 2020. https://www.eatingbirdfood.com/peanut-butter-banana-bites