Spring Salad with Fresh Strawberry Vinaigrette
Here's a recipe for a great spring salad that can be made quickly with strawberries and other fresh ingredients you can find at your local farmer's market.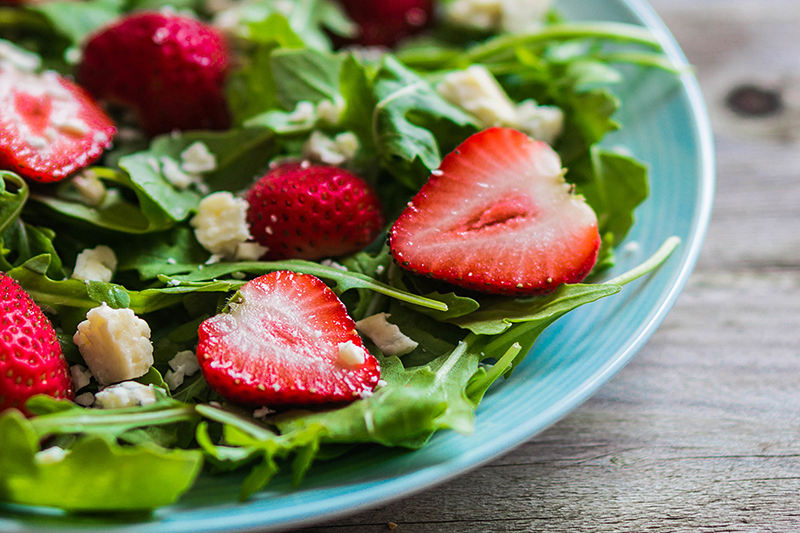 Prep time: 30 minutes
Serves: 4
Spring Salad
2 cups baby arugula or baby spinach
6 cups mixed baby spring greens
1 cup fresh strawberries, washed, hulled, and sliced
½ cup red onion, thinly sliced – optional
½ cup crumbled feta cheese
Fresh ground pepper to taste
½ cup Fresh Strawberry Vinaigrette (see recipe below)
Instructions
Place baby greens in a large bowl; if done ahead of time, cover and refrigerate.
Toss strawberry slices and onions together gently with greens. Divide salad between four plates and top each with 2 tablespoons vinaigrette and 2 tablespoons crumbled feta.
Fresh Strawberry Vinaigrette
2½ cups fresh strawberries washed, hulled and sliced, OR
a 14 oz. package, frozen unsweetened strawberries, thawed
¼ cup raw sugar
¼ cup seasoned rice vinegar
3 tbsp. extra virgin olive oil
¼ tsp. sea or regular salt
¼ tsp. fresh ground black pepper – optional
Related: Watermelon Mint Goat Cheese Salad
Instructions
Place all ingredients for dressing in a blender or food processor and blend until smooth. Adjust seasonings, if necessary.
Cook's Note: Dressing will last up to two weeks refrigerated.
Salad Nutrition Facts: 1 serving 100 calories, 5g fat; 7g carbohydrate; 2g fiber; 7g protein; 20mg cholesterol, 320mg sodium
Vinaigrette Nutrition Facts: 2 tbsp. at 30 calories; 2g fat; 4g carbohydrate; 0g fiber; 0g protein; 20mg cholesterol; 48mg sodium
Reference: Recipe by Select Health Chef Mary E. Ross