Whole-wheat Banana Pancakes
These banana pancakes are a quick and healthy breakfast solution, and bonus: They're a great source of fiber, providing roughly 20% of your daily recommended value.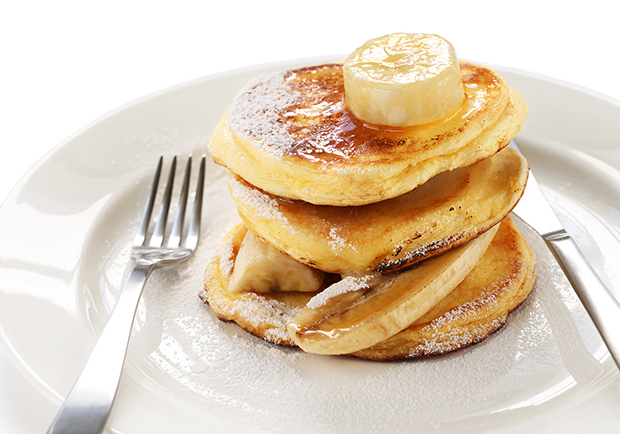 Prep time: 5 minutes
Servings: 6
Serving size: 2 pancakes
Ingredients
1 cup whole wheat flour
2 tsp. baking powder
½ tsp. cinnamon
1 medium ripe banana, mashed
1 cup low or nonfat milk
2 eggs
2 tsp. oil
1 tsp. vanilla
Cooking spray
Instructions:
1. Combine flour, baking powder, and cinnamon in a bowl; mix well.
2. Combine milk, eggs, oil, vanilla, and mashed banana in a bowl and mix until smooth.
3. Combine wet ingredients with the dry and mix well with a spoon until there are no more dry spots.
4. Heat a large skillet on medium heat.
5. Spray cooking spray to lightly coat and pour ¼ cup of pancake batter. When the pancaked starts to bubble and the edges begin to set, flip the pancakes. Repeat with the remainder of the batter.
6. Serve hot and enjoy!
Related: Whole Wheat Blueberry Muffins
Nutrition Facts (per serving): Calories: 280; Carbohydrates: 43 g; Fat: 8 grams; Protein: 12 grams; Sodium: 400 mg; Fiber: 6 grams
Select Health may link to other websites for your convenience. Select Health does not expressly or implicitly recommend or endorse the views, opinions, specific services, or products referenced at other websites linked to the Select Health site, unless explicitly stated.
The content presented here is for your information only. It is not a substitute for professional medical advice, and it should not be used to diagnose or treat a health problem or disease. Please consult your healthcare provider if you have any questions or concerns.
Reference: "Cooking Your Weigh to Health." Intermountain Health, 2015. Web. 15 Jan. 2019.