Healthy Taco Soup
Satisfy your craving for tacos with this simple and healthy taco soup.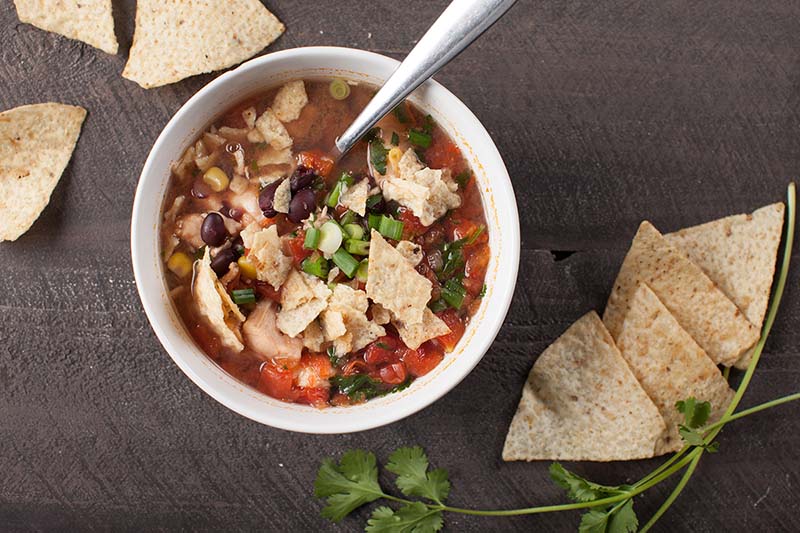 Prep time: 10 minutes
Cooking time: 20 minutes
Serves: 11
Ingredients
½ yellow onion, finely chopped
2 garlic cloves, minced
1 lb. lean ground turkey
1 15 oz. can black beans, drained and rinsed
1 11-15 oz. can corn, drained and rinsed
1 4.5 oz. can green chiles (optional)
2 14.5 oz. cans fire roasted crushed tomato
2 cups low sodium chicken broth
1 packet store-bought taco seasoning
Toppings
Shredded cheese
Sour cream or plain Greek yogurt
Fresh cilantro
Corn or tortilla chips or strips
Sliced or diced avocado or guacamole
Squeeze of lime juice
Instructions
Heat 1 teaspoon oil in a pot over medium heat.
Add onion and cook for about 3 minutes, and then add garlic and cook for another 2 minutes.
Add ground turkey and cook thoroughly, breaking it up as it browns.
Add remaining soup ingredients and turn the heat down to simmer.
Simmer for about 10 to 30 minutes. Use water to adjust thickness, if needed.
Serve with fresh toppings as desired.
Nutrition Facts (per Serving): Calories: 160kcal | Carbohydrates: 20.3g | Protein: 15g | Fat: 0.7g | Cholesterol: 25.5mg | Sodium: 640.3mg | Fiber: 2.2g | Sugar: 6.1g
Related: Quick and Easy Restaurant-Style Salsa

Reference: "Healthy Taco Soup." Kim's Cravings, 2 Sept. 2021. https://www.kimscravings.com/healthy-taco-soup/.