Grilled Salmon Kebabs
Fresh, zesty, and loaded with Omega 3s, these salmon kebabs are a great dinner option that can be made in 10 minutes.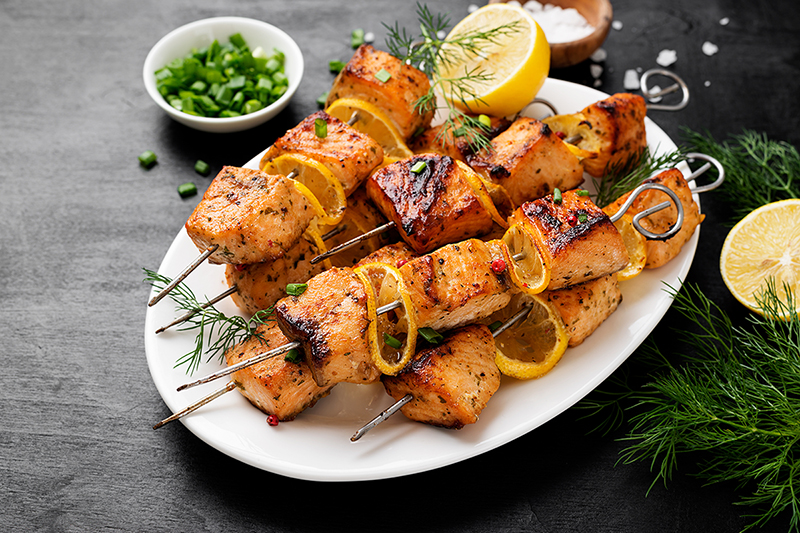 Prep time: 15 minutes
Cook time: 10 minutes
Serves: 4
Ingredients
2 tbsp freshly chopped oregano
2 tsp sesame seeds
1 tsp ground cumin
1/4 tsp crushed red pepper flakes
1-1/2 pounds skinless wild salmon fillet, cut into 1-inch pieces
2 lemons, thinly sliced into rounds
olive oil cooking spray
1 tsp kosher salt
16 bamboo skewers soaked in water 1 hour
Instructions
1. Heat the grill on medium heat and spray the grates with oil.
2. Mix oregano, sesame seeds, cumin, and red pepper flakes in a small bowl; set spice mixture aside.
3. Beginning and ending with salmon, thread salmon and folded lemon slices onto 8 pairs of parallel skewers to make 8 kebabs total.
4. Spray the fish lightly with oil and season kosher salt and the reserved spice mixture.
5. Grill the fish, turning occasionally, until opaque throughout, about 8 to 10 minutes total.
Related: Light and Cheesy Au Gratin Potatoes
Nutrition Facts (per serving): Serving: 2 kebabs, Calories: 267kcal, Carbohydrates: 7g, Protein: 35g, Fat: 11g,
Cholesterol: 94mg, Sodium: 658mg, Fiber: 3g

Reference: https://www.skinnytaste.com/these-lovely-grilled-salmon-and-lemon/