Banana Oatmeal Blender Pancakes
Quick and easy, these healthy pancakes are made in a blender and naturally sweetened with bananas.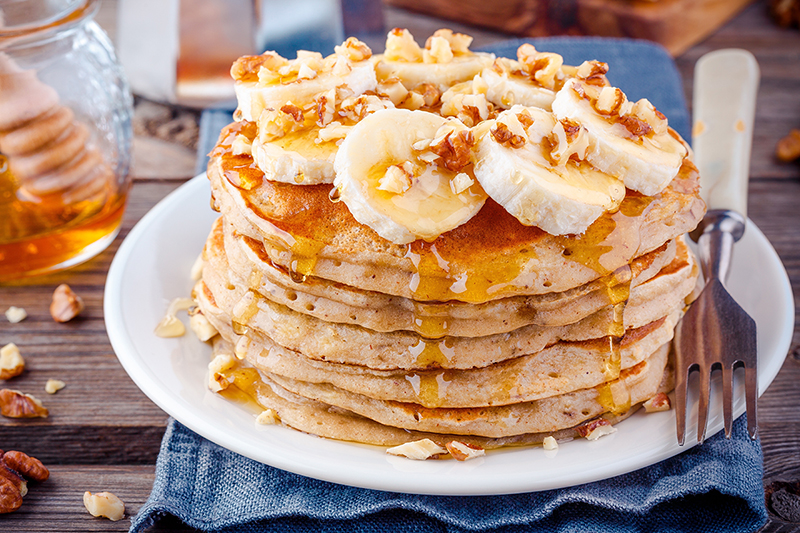 Prep time: 10 minutes
Cook time: 5 minutes
Serves: 8
Ingredients
2 1/4 cups rolled oats (or gluten-free oats, if desired)
1 cup unsweetened vanilla, almond, cashes, or coconut milk
2 large ripe bananas
1 tbsp. honey or pure maple syrup
1 large egg
1/4 tsp. sea salt
1/2 tsp. ground cinnamon
1 tsp. pure vanilla extract
1 1/2 tsp. baking powder
coconut oil or grass-fed butter for cooking
Instructions
1. Place all ingredients in the blender and blend on high until completely mixed together and oats have broken down, about 1-2 minutes.
2. Heat a griddle or large pan over medium-low heat and melt a teaspoon or two of coconut oil or grass-fed butter in the pan. Once the pan or griddle is hot, pour or scoop 1/4 cup of the batter onto the pan. Cook 2-3 minutes on both sides.
3. Serve immediately with extra bananas or fruit, nuts, nut butter, or maple syrup.
Related: Eggs Benedict with Light Hollandaise Sauce
Nutrition Facts (per serving): 2 pancakes | Calories: 170kcal | Carbohydrates: 21g | Protein: 4g | Fat: 9g | Cholesterol: 23mg | Sodium: 73mg | Fiber: 3g

Reference: Thompson, Molly. "Banana Oatmeal Pancakes." What Molly Made, https://whatmollymade.com/banana-oatmeal-blender-pancakes/#wprm-recipe-container-6455 Web. 9 Jun. 2020