Carne Asada Street Tacos
Try this easy Carne Asada recipe you can make in 30 minutes or less.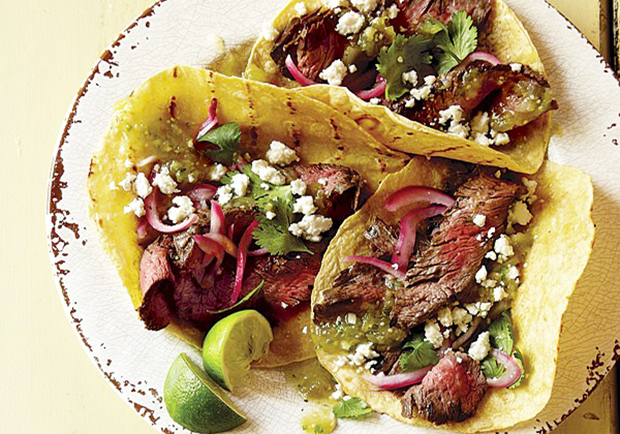 Yield: 6 to 8 servings of 2 corn tortillas with 4 oz. meat and 1/2 oz. cheese
Ingredients
olive oil cooking spray
food-grade plastic wrap
1 ½ to 2 lb. flank steak, trimmed of fat
1 ½ to 2 tsp. kosher salt
1 tsp. Mexican oregano, crushed
¼ to ½ tsp. fresh ground black pepper
4 large cloves garlic, pressed or minced
12 to 16 stone-ground corn tortillas
24 to 32 tbsp. crumbled low-fat or regular feta cheese
1 small red onion, cut in half and thinly sliced
low-fat or fat-free sour cream, warmed to room temperature – optional
fresh cilantro sprigs – optional
fresh limes, cut into wedges for squeezing – optional
Salsa Verde (recipe below)
1. In a small bowl, mix 1½ to 2 teaspoons kosher salt (depending on size of steak) with oregano, and fresh ground pepper. Divide mixture in half and set aside.


2. Cover a cutting board with plastic wrap. Lay steak on wrap and sprinkle evenly with half of salt mixture. Using your fingers, work salt mixture and 2 cloves garlic into the steak's surface. Flip steak over and repeat process with remaining salt mixture and garlic.


3. Wrap steak securely and allow to sit at room temperature for 1 to 2 hours or transfer to refrigerator and chill overnight. If chilling, remove steak from refrigerator and allow to sit at room temperature for 1 hour.


4. Lightly spray grill with cooking spray and preheat to 450 F. Remove plastic wrap and let steak sit uncovered while grill is heating. Sear steak 2 to 3 minutes per side for rare to medium-rare.
5. Transfer steak from grill to a cutting board, cover with foil and let rest for 5 minutes before slicing. Slice steak across the grain at an angle into ¼-inch thick bite-size pieces.
4 oz. serving of meat with 2 corn tortillas, 2 tbsp. feta cheese, 1 tbsp. fat-free sour cream, and 2 tbsp. Salsa Verde contains approximately 365 calories, 14 g Fat; 24 g Carbohydrate; 5.6 g Dietary Fiber; 38 g Protein; 95 mg Cholesterol; 563 mg Sodium.
Related: Coconut Curry Butternut Squash Soup
SALSA VERDE
Yield: 3 cups
4 fresh roasted or canned Anaheim or Poblano chilies, peeled, seeded, deveined, and chopped*
1 large green or yellow tomato, core and seeds removed
2 to 3 tomatillos, husks removed, rinsed, and diced
1/2 cup white onion, chopped
1/3 cup fresh cilantro, chopped - optional
1 tbsp. fresh lime juice
2 cloves fresh pressed garlic
1/4 tsp. salt
If using canned peppers, proceed to step #4.
1. To roast peppers place oven rack on top shelf directly below broiler. Turn broiler on high to 500 degrees. Line a baking sheet with foil and place peppers on sheet and place under broiler.


2. Leaving oven door slightly ajar, roast until skins start to char and lift from top of peppers. Using tongs, turn peppers every few minutes, roasting evenly on all sides. Don't let peppers burn or the skin will be difficult to remove.


3. After peppers have roasted, remove from oven and use tongs to put peppers into a zip lock bag. Seal bag and allow peppers to sweat for 15 minutes, remove from bag and peel under cool running water. Using your thumb and fingers, slit peppers down side and remove stems, seeds, and veins. Allow to dry/drain on paper towels before chopping.


4. If using canned peppers, rinse well under cold water making sure to remove any remaining seeds or stems. Allow to dry/drain on paper towels before chopping.


5. Mix ingredients together in a nonmetallic bowl or container. Adjust seasonings if necessary, cover and chill or serve at room temperature. Salsa can be made 1 to 2 days in advance
.
*Using canned peppers may not taste as good as roasting fresh peppers, but it will cut your prep time time in half.
Nutrition information: (per 2 tsbp. servings of salsa verde) 10 calories; 0 g Fat; 0 cholesterol; 2 grams total carbohydrate; 0 g fiber; 0 g protein; 92 mg sodium
Related: Baked Maple Glazed Salmon
Select Health may link to other websites for your convenience. Select Health does not expressly or implicitly recommend or endorse the views, opinions, specific services, or products referenced at other websites linked to the Select Health site, unless explicitly stated.
The content presented here is for your information only. It is not a substitute for professional medical advice, and it should not be used to diagnose or treat a health problem or disease. Please consult your healthcare provider if you have any questions or concerns.