Healthy Holiday Eating
Bring holiday hues into your festive feasts, and you're sure to keep good health on the menu.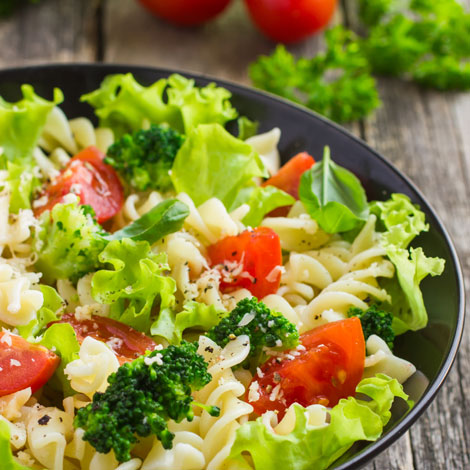 Chances are, you plan to deck the halls for a merry holiday season. And what better way to evoke the spirit of the holidays than with a traditional red and green color scheme?
Bring those holiday hues into your festive feasts, and you're sure to keep good health on the menu—even as you sample the occasional treat.
'Tis Always the Season
A number of fresh reds and greens are in the produce aisles now, waiting to star in your winter meals. Look for red foods such as apples, beets, cranberries, red bell peppers, and pomegranates. And go for green ones, like Brussels sprouts, kiwi, kale, and (again) apples.
Of course you don't have to stop there. Almost anything you could wish for is available year-round in the frozen food section. Frozen fruits and veggies are just as nutritious as fresh—if you skip those with added sugar, fat, or salt.
Ready to transform a host of reds and greens into healthy seasonal delights? Let's get started.
For breakfast
For a green smoothie even Scrooge would love, toss kiwi, banana, and a few leaves of spinach or kale into the blender with low-fat yogurt.
At lunch
Get the kids involved in planning and prepping a midday meal featuring only red and green foods. Try veggie kebabs made with roasted beets, Brussels sprouts, and red bell peppers.
As a snack
Set out a bowl of fresh cranberries or toasted kale chips.
Related: How Not to Eat Your Feelings This Holiday Season
Salad with dinner—or as the main dish
Transform cucumber slices into stars with a mini cookie cutter. Toss with tomatoes, pomegranate seeds, chopped kale, and a splash of vinaigrette. For some colorful protein—and to make this a meal—add cooked red lentils.
Time for dessert
Core green apples, fill with cranberries, drizzle with maple syrup, and bake.
While incorporating color into your meals will increase flavor and add variety, a bland palette isn't the only culprit when it comes to holiday weight gain. Emotional eating can also get the best of us during this special time of year.
What's your favorite healthy holiday recipe? Tell us on Facebook. And while you're here, check out our other articles on healthy living.
References: Academy of Nutrition and Dietetics; American Institute for Cancer Research; fruitsandveggiesmorematters.org
Select Health may link to other websites for your convenience. Select Health does not expressly or implicitly recommend or endorse the views, opinions, specific services, or products referenced at other websites linked to the Select Health site, unless explicitly stated.
The content presented here is for your information only. It is not a substitute for professional medical advice, and it should not be used to diagnose or treat a health problem or disease. Please consult your healthcare provider if you have any questions or concerns.