Lighter Halloween Sugar Cookies
Make these cookies delectably soft and chewy or light and crispy just by adjusting the thickness of the rolled out dough before cutting it into shapes.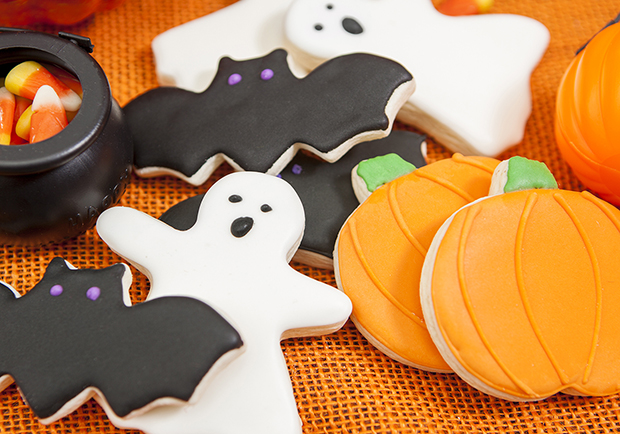 Yield: 22 to 24 cookies (3 to 4 inches)
1¾ cups unbleached flour
2 tsp. baking powder
1 tbsp. malted milk powder
¼ tsp. fresh grated nutmeg
¼ cup (5.5 grams fat per tablespoon)
¼ cup nonfat sour cream
1 cup sugar
1 tsp. vanilla
2 egg whites
cooking spray or parchment for baking sheets
white icing (see recipe below)
liquid, gel, or paste food colorings*
colored gel frosting tubes, colored sugars, decorating candies – optional 3 and 4 inch pumpkin, ghost, cat or any Halloween shaped cookie cutters
1. Stir flour, baking powder, malted milk powder, and nutmeg together in a bowl until combined.
2. In a mixing bowl, cream butter and sour cream together with sugar until smooth. Add vanilla and egg whites, beating until smooth.
3. Gradually add flour mixture to butter cream mixture, blending all ingredients together until combined. Wrap dough in plastic wrap and refrigerate at least 4 hours. The longer the dough is refrigerated, the easier it is to handle.
4. Preheat oven to 325 F and prepare baking sheets. If using nonstick baking sheets, spread 1 tsp. vegetable oil evenly over sheet or use parchment paper. You can also use 99% residue-free baking spray with flour on any baking surface.
5. Working with a third of the dough at a time, roll dough out onto a lightly floured board or pastry cloth to 1/3-inch thickness or slightly thinner. (Keep remainder of dough covered and refrigerated until ready to use.) Cut cookies into shapes using 2- to 3-inch floured cookie cutters. Carefully transfer cookies to prepared baking sheets.
6. Bake cookies until lightly browned around edges, 10 to 12 minutes. After removing from oven, let cookies stand 1 minute, then transfer to wire racks to cool.
7. After cookies have cooled completely, use a pastry knife to spread icing or pipe it onto cookies using a pastry bag. While icing is still wet, sprinkle with decorating sugar or decorate with dots or swirls of colored icing or candies.
Nutritional Information: Cookie without icing 75 Calories; Fat 1g; Protein 1g; Carbohydrate 15g; Dietary Fiber trace; Cholesterol 3mg; Sodium 57mg. Exchanges: 1/2 Grain (Starch); 1/2 Fat; 1/2 Other Carbohydrates.
Nutritional Information: 1 cookie with 2 tbsp. white icing 155 calories; 2.2 Fat 1.4g; Protein 3.7g; Carbohydrate 52g; Dietary Fiber 0.5g; Cholesterol 7mg; Sodium 145mg.
Related:
Gluten-Free Recipes That Anyone Will Enjoy
White Icing
Yield: 3 cups
1 (16 oz.) package confectioner's sugar
3 tbsp. meringue powder**
1/3 cup warm water
Beat sugar with meringue powder and water until thick and white, about 7 minutes.

Icing may be tinted with food coloring at this point. Keep icing covered with plastic wrap to prevent drying out.

If necessary, use a little warm water to thin frosting to the right spreading or piping consistency.

Nutritional Information: 1 tbsp. serving 40 Calories; Fat trace; Protein trace; Carbohydrate 10g; Dietary Fiber 0; Cholesterol 0 Sodium 4mg.
*Paste or gel food coloring, decorating sugars, candy, decorating frosting tubes are available at grocery and specialty stores wherever baking and cake decorating supplies are sold.
**Meringue powder is available at specialty stores.
Select Health may link to other websites for your convenience. Select Health does not expressly or implicitly recommend or endorse the views, opinions, specific services, or products referenced at other websites linked to the Select Health site, unless explicitly stated.
The content presented here is for your information only. It is not a substitute for professional medical advice, and it should not be used to diagnose or treat a health problem or disease. Please consult your healthcare provider if you have any questions or concerns.