Helping Your Family Navigate Change
It doesn't have to be a new year to commit to goals and an improved outlook. Changes to your routine can provide opportunities for growth so try to look at the new school year as a fresh start.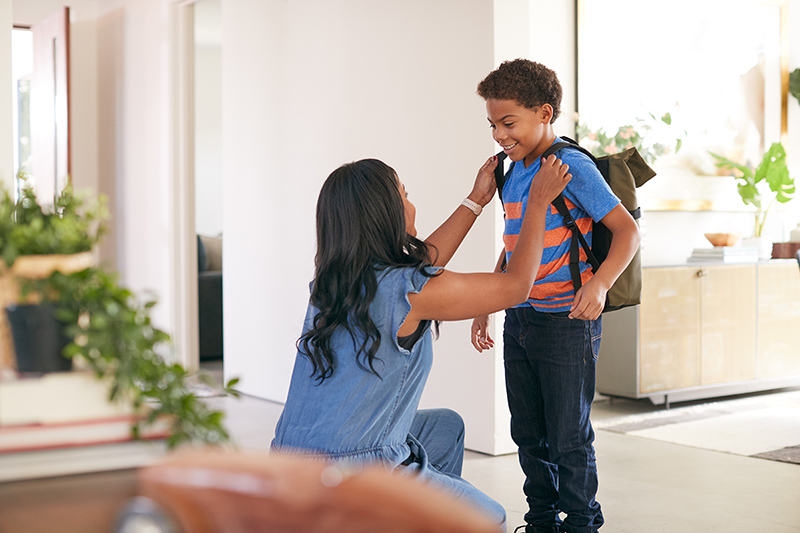 You may be feeling anxious as you prepare for the return to school and a new way of learning. Your kids may be nervous too. Follow these tips to help make the transition simpler.
Help your child get used to wearing a mask
With many public schools requiring students to wear masks for the whole day, it's a good idea to start helping your kids get used to wearing a mask for long periods of time. You can start by easing them into wearing one while socializing or when running errands.
Related: Have Your Circumstances Recently Changed? We've Got You Covered
Openly communicate about feelings
Life transitions and change can increase stress and anxiety levels, especially in kids. As they return to school, they might feel a whole range of overwhelming emotions. Make sure to regularly check in with your kids so that you can validate their feelings and talk openly about their concerns. Remind them that they are safe to share their thoughts with you.
Remind your child about social distancing
As much as your kids want to greet their friends with hugs on the first day of school, remind them to practice social distancing as much as they can during those hours of learning. And don't let them forget the hand sanitizer!
Practice deep breathing exercises
You can help your kids recognize when their anxiety is heightened and teach them skills to help self-manage those feelings. Show them how to sit in a comfortable position, close their eyes, then place their hand on their stomach. Then have them slowly inhale through their nose, focusing their breath in their belly so their belly rises as they inhale and flattens when they exhale. Only a few minutes of deep belly breathing can work wonders on anxiety levels.
Related: Crunching Numbers for Back To School
Don't forget to keep busy
Remind your kids (and yourself) to practice gratitude, to have fun, and to do good things for others, even with social distancing. There are so many creative ways to connect, keeping busy with new hobbies and spending meaningful time together can help ease tensions.
Select Health may link to other websites for your convenience. Select Health does not expressly or implicitly recommend or endorse the views, opinions, specific services, or products referenced at other websites linked to the Select Health site, unless explicitly stated.
The content presented here is for your information only. It is not a substitute for professional medical advice, and it should not be used to diagnose or treat a health problem or disease. Please consult your healthcare provider if you have any questions or concerns.