Mint Lemonade
Cool off with this sweet and tart mint lemonade—made with less sugar than typical recipes.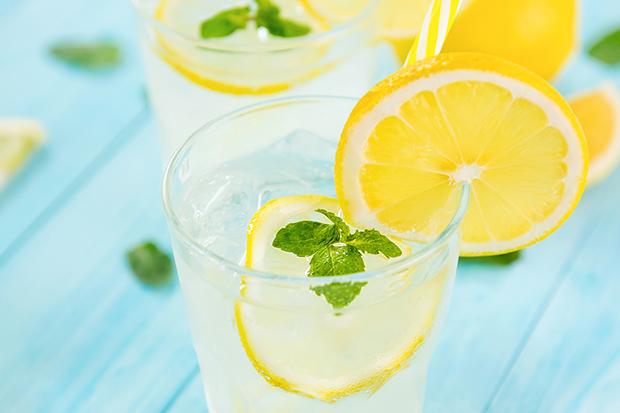 Prep time: 5 minutes
Makes 4 servings
Ingredients
6 lemons
¼ cup granulated sugar
6 cups cold water
30-40 mint leaves
Ice cubes
Instructions
1. In small pot, add sugar and ½ cup water and cook on low until the sugar has dissolved (about 1 minute). Let cool for a few minutes.
2. Juice lemons and discard seeds. Add the lemon juice to a pitcher and add 4 cups water.
3. Add sugar syrup mixture to the pitcher and mix well.
4. Add more water or ice cubes to taste if the lemonade is too strong.
5. Put 6-10 mint leaves in each glass and muddle for a few seconds using a pestle. If you don't have a muddling tool, use a small, flat wooden spoon. Add a small amount of lemonade to each glass and muddle for a few more seconds.
6. Fill each glass ¾ full with lemonade; add ice as desired.
Nutrition Facts (per serving): Calories: 74; Carbohydrates: 20; Fat: 0.3 grams; Protein: 1 gram; Sodium: 2.2 mg; Fiber: 2.5 gram
Related: Greek Cucumber Salad
For information on our medical and dental plans, visit selecthealth.org/plans. And while you're here, check out our other articles on nutrition and diet.
Reference: "Mint Lemonade Recipe (Low Sugar)." Pickled Plum, 2018. Web. 20 Aug. 2019. <https://pickledplum.com/mint-lemonade-recipe-low-sugar/>