Eggs Florentine with Spinach and Tomatoes
Home-cooked meals are typically healthier than going to a restaurant. Save calories and money by making this version of Eggs Florentine at home.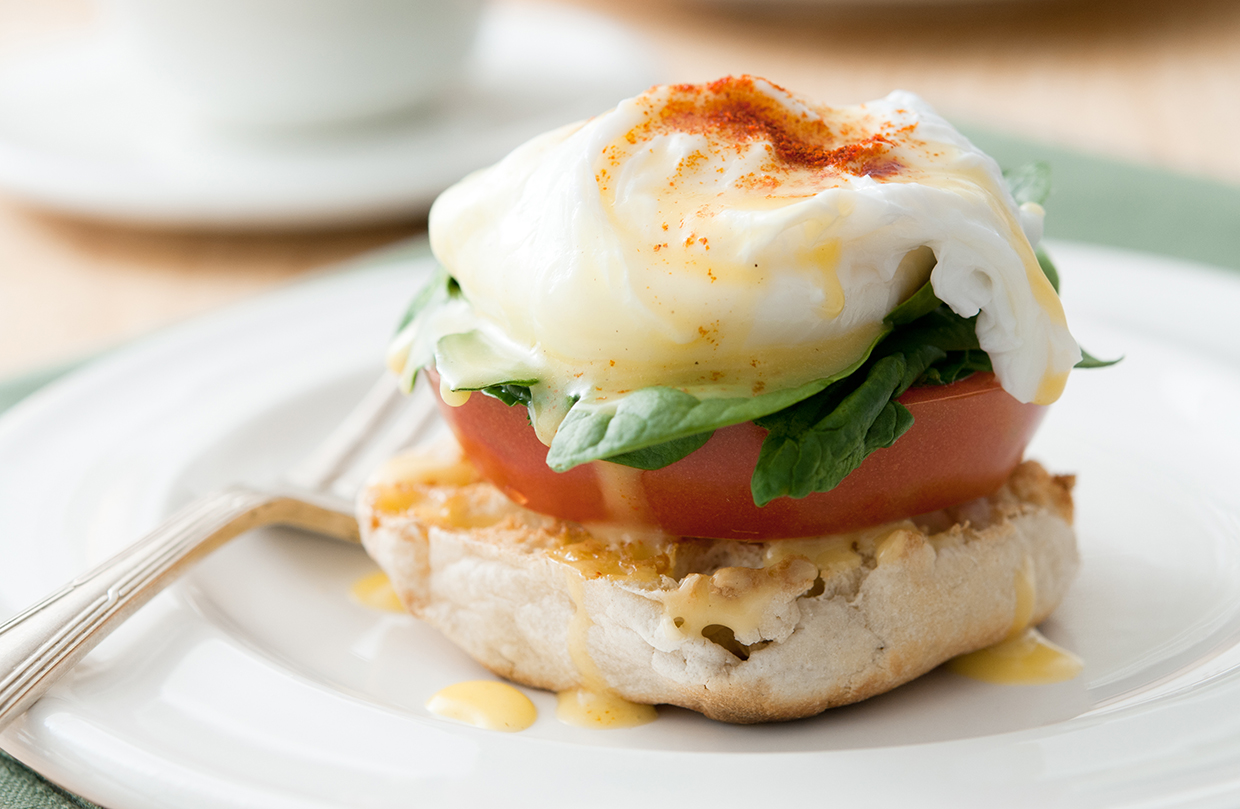 Prep time: 2-4 minutes
Makes 1 serving
Serving size: 1
Ingredients
2 eggs
1 tsp. white vinegar
1 English muffin
2 cups fresh spinach
¼ cup cherry tomatoes, sliced
1 tbsp. olive oil
½ tsp. pepper
Instructions
1. Bring a small pot of water to boil.
2. When the water has begun to boil, turn the heat to medium. Add a teaspoon of white vinegar.
3. Using a large spoon, stir the water until a small vortex forms, and the water continues in a circular motion on its own. Quickly stop stirring, and crack the eggs, pouring them into the center of the pot one by one. The vortex causes the egg white to encircle the yolk, rather than drift apart. The poached eggs should take about 4 minutes to cook. If you like the yolks less runny leave them in the water for a bit more time. Once cooked lower heat or turn off stove.
4. In a large frying pan, heat olive oil on medium heat. Add the sliced tomatoes and spinach and stir. Cover the spinach with a large pot lid to allow to steam (5 minutes).
5. Slice the English muffin in half and toast.
6. Once the spinach has wilted, place some on top of each toasted English muffin half.
7. Using a slotted spoon, remove the eggs from the water and place on onto each English muffin half.
8. Sprinkle with pepper and enjoy!
Nutrition Facts (per serving): Calories: 400; Carbohydrates: 31; Fat: 23 grams; Protein: 19 grams; Sodium: 420 mg; Fiber: 6 gramsRelated: Tropical Turmeric Smoothie Select Health may link to other websites for your convenience.
Select Health does not expressly or implicitly recommend or endorse the views, opinions, specific services, or products referenced at other websites linked to the Select Health site, unless explicitly stated.
The content presented here is for your information only. It is not a substitute for professional medical advice, and it should not be used to diagnose or treat a health problem or disease. Please consult your healthcare provider if you have any questions or concerns.
Reference: "Cooking Your Weigh to Health." Intermountain Health, 2015. Web. 16 Oct. 2018.