Pear Gorgonzola Pizza
Impress your friends by making this pear gorgonzola pizza recipe. It could be ready in about 30 minutes by using your favorite premade pizza dough.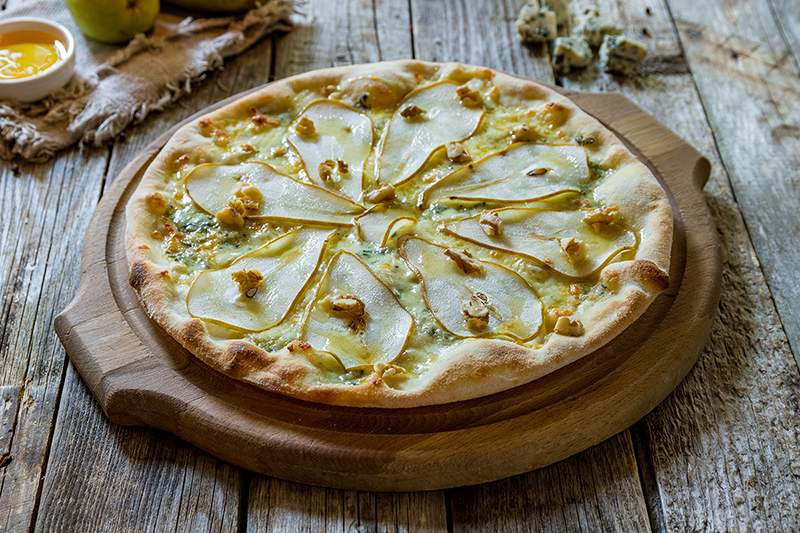 Prep time: 20 minutes
Cooking time: 15 minutes
Yields: 8 slices
Ingredients
Caramelized Onions:
2 tsp. olive oil
1 yellow onion, thinly sliced
¼ tsp. kosher salt and fresh ground black pepper to taste
Pizza:
1 lb. refrigerated pizza dough
1 tsp. olive oil
Kosher salt and fresh ground black pepper to taste
1 tsp. fresh thyme
1 pear, sliced thin
½ cup shredded smoked gouda cheese
½ cup shredded part skim mozzarella cheese
¼ cup crumbled gorgonzola cheese
3 slices of prosciutto, rolled up and sliced thin
Instructions
1. Preheat oven to 450 degrees. Spray a baking sheet or pizza stone with cooking spray.
2. In a large skillet, add 2 teaspoons of olive oil. Heat over medium heat then add the sliced onions and cook until softened and golden brown (about 10 minutes).
3. Roll the pizza dough out onto baking sheet or stone. Brush teaspoon of olive oil on dough. Then sprinkle on salt, pepper, and fresh thyme.
4. Sprinkle shredded cheese on pizza. Top evenly with the sliced pear, prosciutto, and caramelized onions.
5. Bake the pizza for 10-15 minutes or until it is bubbly and golden. Remove from the oven and serve immediately.
Nutrition Facts (per slice): Calories: 257; Fat: 10 g; Protein: 11; Carbohydrates: 31 g; Sodium: 707 mg

Related: Baked Zucchini Fries
And while you're here, check out other recipes and information on nutrition and diet. For information on our medical and dental plans, visit selecthealth.org/plans.


Select Health may link to other websites for your convenience. Select Health does not expressly or implicitly recommend or endorse the views, opinions, specific services, or products referenced at other websites linked to the Select Health site, unless explicitly stated.
The content presented here is for your information only. It is not a substitute for professional medical advice, and it should not be used to diagnose or treat a health problem or disease. Please consult your healthcare provider if you have any questions or concerns.
Reference: "Recipe Runner." Pear, Prosciutto and Gorgonzola Pizza, 2018. Web. 21 Feb. 2020. <https://reciperunner.com/pear-prosciutto-gorgonzola-pizza/>