Is a Plant-Based Diet for Me?
Eating tofu instead of cheeseburgers might seem a bit daunting, but find out why plant-based dieting might be a good option.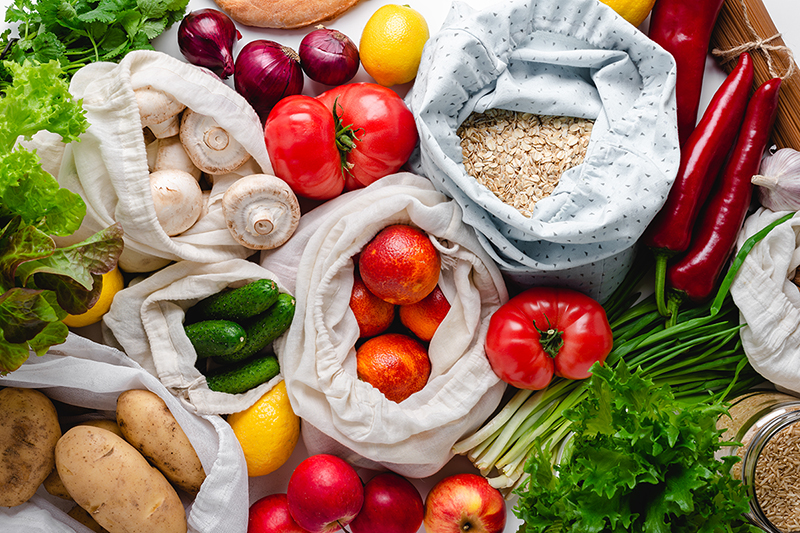 Whether you've read about it online or engaged in small talk with your friends or coworkers, one trend that seems to be growing in popularity is a plant-based diet. You're probably thinking: "A plant-based diet—isn't that the same as being vegetarian or vegan?" Well, to give the short answer—no, it isn't.
While vegetarians still indulge in animal byproducts like milk and eggs, plant-based dieters eliminate all meat and other byproducts. And as for vegans, their diet is also plant-based, but they also eliminate any sort of animal product from all areas of their life, including their wardrobe, skincare, and beyond.
So, if you're thinking about diving into a plant-based diet, here are a few facts to consider before you take the plunge:
It reduces the risk of chronic illness
A recent study found that switching to a plant-based diet can reduce the risk of chronic illnesses such as obesity, diabetes, cancer, and heart disease. And seeing that 40% of Americans are living with at least one chronic disease, switching your chicken for tofu might not be a bad idea.
It will boost your weight-loss efforts
If you've been struggling to reach that number you've been aiming for on the scale for years, a plant-based diet might be the key to success. There's a lot of research that suggests that plant-based diets keep you fuller on fewer calories, especially when you consume plant-based protein.
Your mental health will thank you
Can the food you eat really affect your mental health? Yes, it can! Studies show that those who eat a plant-based diet every day had drastically less symptoms of depression and anxiety compared to those who eat processed foods.
Plants like pumpkin seeds, mushrooms, broccoli, sunflower seeds, and soybeans can increase the production of serotonin (the happiness hormone) in the brain.
A few tips to get you started
If you're interested in making the change, the best way to transition to a plant-based diet is by starting out slowly and taking it day by day until it becomes part of your lifestyle. Keep in mind that habits take time to develop, so be patient until you find what works for you.
Here's a list of plant-based foods to get you started:
• Fruits: Berries, citrus fruits, pears, peaches, pineapple, bananas
• Vegetables: Kale, spinach, tomatoes, broccoli, cauliflower, carrots, asparagus, peppers
• Starchy vegetables: Potatoes, sweet potatoes, butternut squash
• Whole grains: Brown rice, rolled oats, farro, quinoa, brown rice pasta, barley
• Healthy fats: Avocados, olive oil, coconut oil, unsweetened coconut
• Legumes: Peas, chickpeas, lentils, peanuts, black beans
• Seeds, nuts, and nut butters: Almonds, cashews, macadamia nuts, pumpkin seeds, sunflower seeds, natural peanut butter, tahini
• Unsweetened plant-based milks: Coconut milk, almond milk, cashew milk
• Spices, herbs, and seasonings: Basil, rosemary, turmeric, curry, black pepper, salt
• Condiments: Salsa, mustard, nutritional yeast, soy sauce, vinegar, lemon juice
• Plant-based protein: Tofu, tempeh, plant-based powders with no added sugar or artificial ingredients
You could make the switch to a plant-based diet one day at a time. Consider eating plant-based foods one meal or one day a week, then go from there if you enjoy it. Do you already have a favorite plant-based meal? Tell us on Facebook—we'd love to hear from you.
While you're here, check out our other articles on healthy living. For information on our medical and dental plans, visit selecthealth.org/plans.