Chicken and Molé Enchiladas
This recipe for enchiladas uses healthier ingredients and cooking techniques, keeping the same bold flavor as traditional recipes, but with fewer calories, fat, and cholesterol.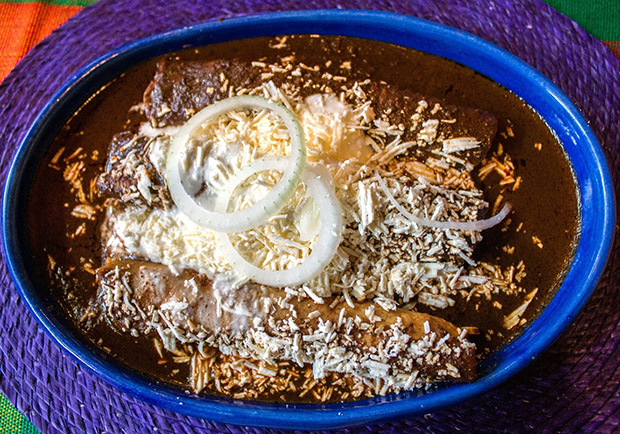 Yield: 12 enchiladas
Cooking time: 60 minutes 40 when sauce and chicken are prepared ahead of time.
Ingredients:
1 recipe Molé Sauce (See recipe below.)
non-aerosol cooking spray
1½ lbs. chicken or turkey breast and/or thigh meat cooked in Molé Sauce
1 10‑oz. package organic or regular corn tortillas (12 tortillas)
½ large white onion, thinly sliced
¾ cup (3 oz.) low-fat feta cheese, crumbled
12 tbsp. fat-free sour cream
1. Prepare Molé Sauce according to recipe instructions and set aside.
2. Remove fat from breast and/or thigh meat with sharp knife. Stirring frequently, bring Molé Sauce back to simmer over medium-high heat; add meat, cover pan, and reduce heat to simmer for 20 to 30 minutes or until meat is tender and no longer pink. Remove meat from sauce and set aside to cool for 20 minutes before cutting or shredding into small pieces.
3. Pour 3 cups sauce into a 13‑ by 9‑inch baking dish. Lightly spray a skillet with cooking spray and heat on medium for 2 minutes. Cook tortillas in skillet 1 or 2 at a time, 30 to 60 seconds per side, until soft. Stack tortillas, covering with a towel to keep from drying out. Do not overcook tortillas, they will become tough. Re-spray skillet every 3 or 4 tortillas.
4. Preheat oven to 350 F. One at-a-time, add tortillas to dish, coating both sides in sauce. Place heaping ½ cup meat in center of tortilla and roll up, side by side, seam-side down. Repeat process, adding more sauce to dish as needed. When dish becomes too full, dip tortillas in sauce pan and make on top of others. Pour 1 to 2 cups sauce evenly over enchiladas; cover with foil and bake 25 minutes, or until bubbling.
5. While baking enchiladas, re-heat remaining sauce over medium, stirring often. After enchiladas have finished baking, remove from oven, discard foil and top each with a little more sauce if necessary followed by onion slices and cheese. Return pan to oven uncovered for 2 minutes or until cheese is melted. Serve with nonfat sour cream, warmed to room temperature and extra sauce on the side.
Nutritional Information: 12 enchiladas served with 1/3 cup sauce each at approximately 180 calories; 3 g total fat; 24g Carbohydrate; 2g Fiber; 15 grams protein; 35mg Cholesterol; 600 mg sodium
Molé Sauce
Yield: 8 cups or 24 1/3 cup servings
Cooking Time: 30 minutes
5 cups water and/or defatted chicken stock, divided into 4 ½ cups and ½ cup
½ cup unbleached white or whole wheat flour
2 tbsp. low-sodium chicken soup base
1 large yellow onion
2 to 3 fresh garlic cloves, peeled
¼ cup raisins
3 to 5 tbsp. of chile powder, fresh ground
2 tbsp. best quality peanut or almond butter
3 tbsp. cocoa powder
3 tbsp. sugar
1 tsp. granulated garlic powder
1 tsp. cinnamon
½ tsp. ground cumin
¼ tsp. ground anise seeds
¼ tsp. ground coriander seeds
¼ tsp. ground cloves
¼ to ½ tsp. salt
Related: Quick and Easy Restaurant-Style Salsa
1. Pour 4½ cups cool or warm liquid (stock or water) into a 4‑quart saucepan. Adding about a third of the flour at a time, rapidly whisk flour into liquid until smooth; whisk in chicken bouillon and set aside.
2. Using a blender or food processor, combine onion with garlic and raisins and process until fine. Add all remaining ingredients to mixture and process 2 to 3 minutes into a smooth paste.
3. Whisk paste into liquid/flour mixture. Add ½ cup stock or water to processor or blender and process to remove remaining ingredients from container; add to sauce.
4. Cook sauce over medium heat, whisking frequently until sauce comes to a low boil and begins to thicken. Reduce heat to low and continue to cook for 10 minutes, whisking occasionally.
5. Adjust seasonings, adding more salt, chile, or cocoa powder, if necessary and remove from heat.Cover sauce and set aside until ready to reheat.
Cook's Note: Use a coffee grinder to grind dried whole chilies. By grinding your own chile powder, it's fresher and more flavorful and you can control how spicy it is by the type and the amount of chile pods, seeds, and veins you grind into the mixture. The chiles in this recipe range in heat from the mild New Mexico chile, to the mild-medium hot ancho and mulato chiles, to the very hot pasilla chile.
Nutritional Information: 1/3 cup 54 Calories; 1g Fat; 10g Carbohydrate; 1g Dietary Fiber; 2g Protein;0 Cholesterol; 153mg SodiumSelect Health may link to other websites for your convenience.
Select Health does not expressly or implicitly recommend or endorse the views, opinions, specific services, or products referenced at other websites linked to the Select Health site, unless explicitly stated.
The content presented here is for your information only. It is not a substitute for professional medical advice, and it should not be used to diagnose or treat a health problem or disease. Please consult your healthcare provider if you have any questions or concerns.