Breakfast Steel Cut Oats in the Pressure Cooker
Forget cooking on the stove, use your pressure cooker to whip up these healthy breakfast steel-cut oats.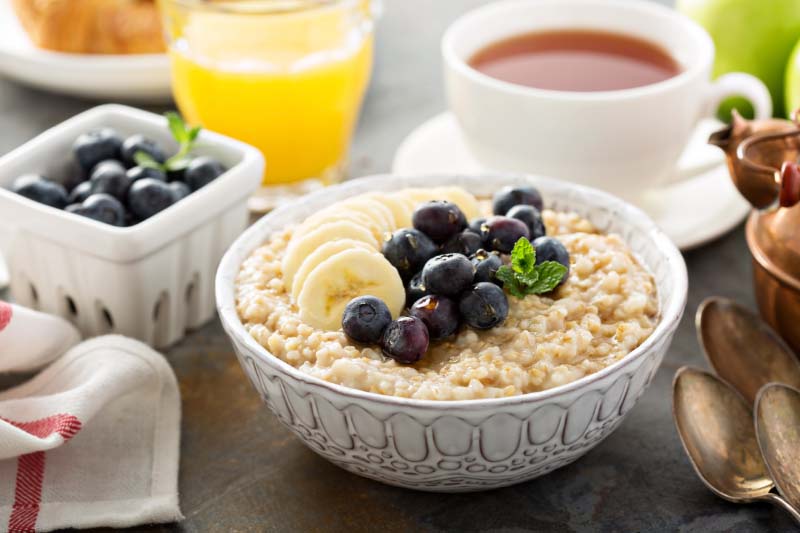 Prep time: 5 minutes
Cooking time: 20 minutes
Serves: 8
Ingredients
2 cups steel-cut oats, gluten-free if necessary
6 cups water
2 cinnamon sticks
4 medium ripe bananas
2 cups fresh or frozen blueberries
1 cup nut, soy, or skim milk
8 tsp. pure maple syrup or honey
Ground cinnamon, for topping
Instructions
Combine the steel cut oats and water in the pressure cooker and stir.
Add the cinnamon sticks and cook for 6 minutes on high pressure.
Allow the pressure to naturally release.
Remove the cinnamon sticks and discard them.
Stir blueberries into the oat mixture.
To serve, pour 1 cup of oats into a bowl. Top with 2 teaspoons of milk and ½ of a banana that has been sliced.
Drizzle with 1 teaspoon of maple syrup or honey and finish with a pinch of ground cinnamon.
Nutrition Facts (per Serving): Calories: 235kcal | Carbohydrates: 50.5g | Protein: 7g | Fat: 3g | Saturated Fat: 0.5g | Sodium: 26mg | Fiber: 6.5g | Sugar: 15g

Related: Overnight Oats Recipes You Should Try for Breakfast

Reference: "Instant Pot Steel Cut Oats." Skinny Taste, https://www.skinnytaste.com/instant-pot-steel-cut-oats/.