10-Minute Veggie Scramble with Mushrooms, Spinach, and Goat Cheese
Add some flavor to your normal scrambled eggs with these healthy veggies.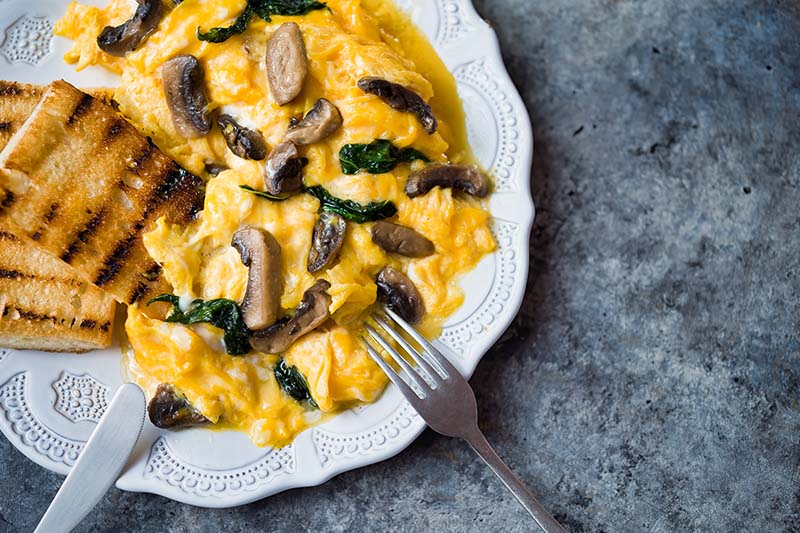 Prep time: NA
Cooking time: 15 minutes
Serves: 4
Ingredients
1½ tbsp. butter
1 cup shiitake mushrooms, sliced
1 cup frozen spinach, thawed
Salt and black pepper to taste
8 eggs
2 tbsp. 2% milk
½ cup fresh goat cheese
Instructions
Heat 1 tablespoon butter in a large nonstick pan over medium heat.
When bubbling, add the mushrooms and cook for about 5 minutes or until they are lightly browned.
Remove from the heat and place on a plate then set it aside.
In the same pan, sauté the spinach until heated all the way through, and season with salt and pepper.
Transfer the spinach to a colander and squeeze out any excess water then set aside.
Combine eggs and milk in a large bowl. Season with salt and whisk thoroughly.
Add the remained ½ tablespoon of butter to the pan, turn the heat to low, and add the eggs.
Use a wooden spoon to stir the eggs constantly.
Continue stirring in this manner for about 5 minutes or until the eggs are very soft and loose.
Add the mushrooms, spinach, and goat cheese to the eggs and continue stirring for about 2 minutes.
Season to taste with pepper.
Nutrition Facts (per Serving): Calories: 240 cal | Fat: 17g | Saturated Fat: 5g | Sodium: 640mg

Related: Olive Oil Scrambled Eggs with Tomatoes

Reference: "Veggie Scramble With Mushrooms, Spinach and Goat Cheese Recipe." Eat This, Not That, 19 April 2019, https://www.eatthis.com/veggie-scramble-goat-cheese-recipe/.