100-Calorie Pumpkin Pie Tartlets
Here's a guilt-free way to have the great taste of pumpkin without feeling like you're overindulging. It's a perfect size to snack on by itself or enjoy as a great finish to any meal.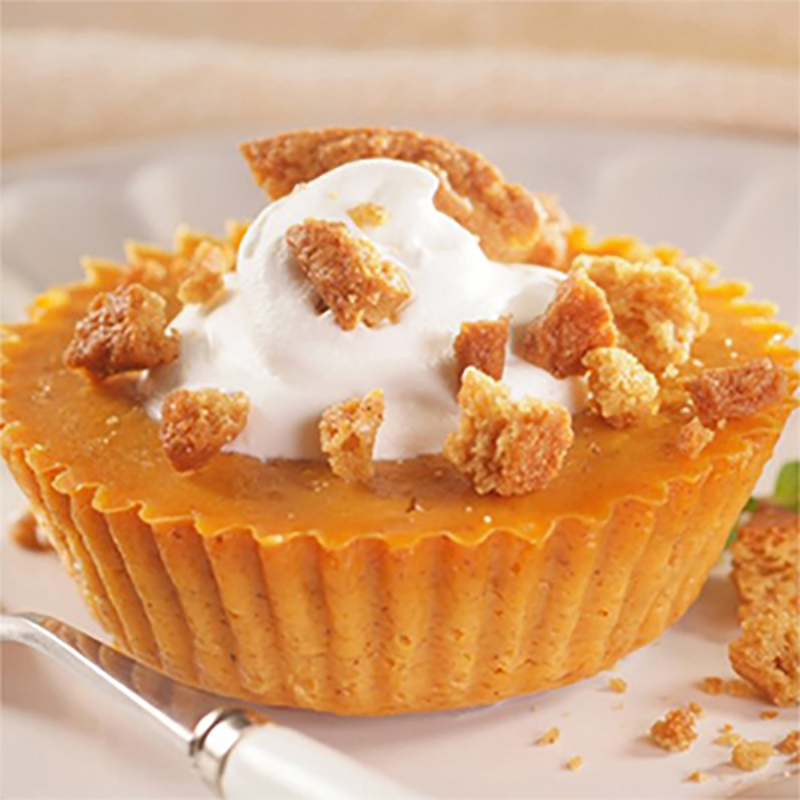 Prep time: 15 minutes
Cooking time: 25 minutes
Makes 16 servings
Ingredients
Nonstick cooking spray
16 (2½ inch foil baking cups)
¾ cup granulated sugar
1 tbsp. cornstarch
1 tsp. ground cinnamon
½ tsp. ground ginger
¼ tsp. ground nutmeg
½ tsp. salt
2 large egg whites
1 can (15 oz.) 100% pure pumpkin
1 can (12 oz.) evaporated fat-free milk
1 cup fat-free whipped topping
12 small gingersnap cookies
Instructions
1. Preheat oven to 350° F. Place baking cups on baking sheet with sides. Spray each cup with cooking spray.
2. Combine sugar, cornstarch, cinnamon, ginger, and salt in small bowl. Beat egg whites in large bowl. Stir in pumpkin and sugar mixture.
3. Gradually stir in evaporated milk.
4. Spoon ¼ to 1/3 cup of mixture into each prepared cup.
5. Bake for 25 to 28 minutes or until knife inserted near centers comes out clean. Cool on baking sheet for 20 minutes. Refrigerate for at least one hour.
6. Top each with whipped topping and gingersnap crumbs.
Nutrition Facts (per ¼ cup) Calories: 99; Fat: 0.7 g; Protein: 2.7; Carbohydrates: 21 g; Dietary fiber: 1.4 g; Cholesterol: 0 mg; Sodium: 140 mg
Related: Pumpkin Chocolate Chip Parfait
For information on our medical and dental plans, visit selecthealth.org/plans. And while you're here, check out other recipes and information on nutrition and diet.