Roasted Tomato Soup
Use your garden-fresh tomatoes and herbs to make this homemade tomato soup—made creamy in a blender.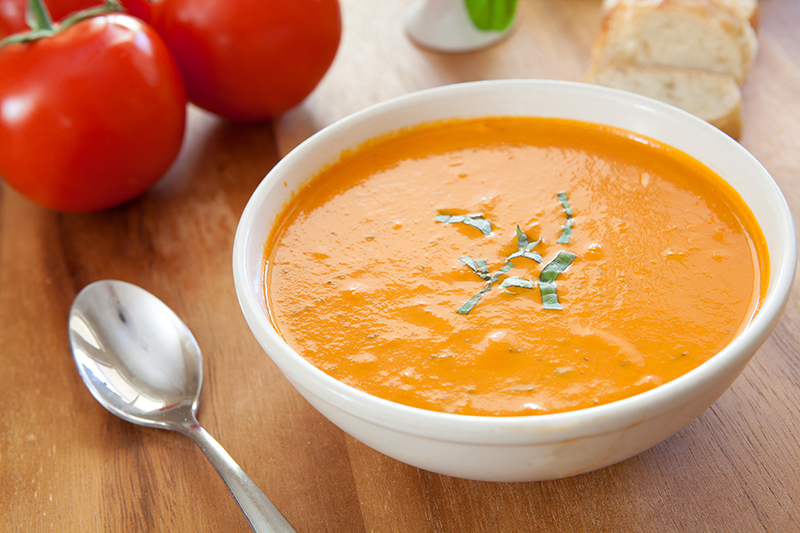 Prep time: 10 minutes
Cook time: 45 minutes
Makes 5 servings
Ingredients
3 lb. Roma tomatoes
½ small onion, sliced
¼ cup olive oil
2 tbsp. minced garlic
1 tsp. salt
¼ tsp. pepper
1 can evaporated milk
½ cup freshly grated Parmesan cheese
3 tbsp. fresh basil
2 tbsp. tomato paste
1 tsp. sugar
Salt and pepper to taste
Instructions
1. Preheat oven to 400°F.
2. Cut tomatoes in half and place cut side up with the sliced onions on a baking sheet. Drizzle with oil and add garlic, salt, and pepper; toss to coat well.
3. Roast for 40 to 50 minutes, just until they start to brown.
4. Place roasted tomatoes and onions in the blender and puree until smooth (leave the lid slightly cracked so steam can escape).
5. Add evaporated milk, cheese, basil, tomato paste, and sugar and puree until smooth. Add additional seasonings to taste, if necessary.
6. Serve immediately.
Nutrition Facts (per serving): Calories: 322; Carbohydrates: 24; Fat: 20 grams; Protein: 11 grams; Sodium: 677 mg; Fiber: 3 grams
Related: Coconut Curry Butternut Squash Soup
For information on our medical and dental plans, visit selecthealth.org/plans. And while you're here, check out our other articles on nutrition and diet.
Reference: "Easy Roasted Tomato Soup." The Recipe Rebel, 2017. Web. 17 Sept. 2019. <https://www.thereciperebel.com/easy-roasted-tomato-soup-and-a-giveaway/>