How to Feel Connected While Working Remotely
Don't let your working from home leave you feeling disconnected.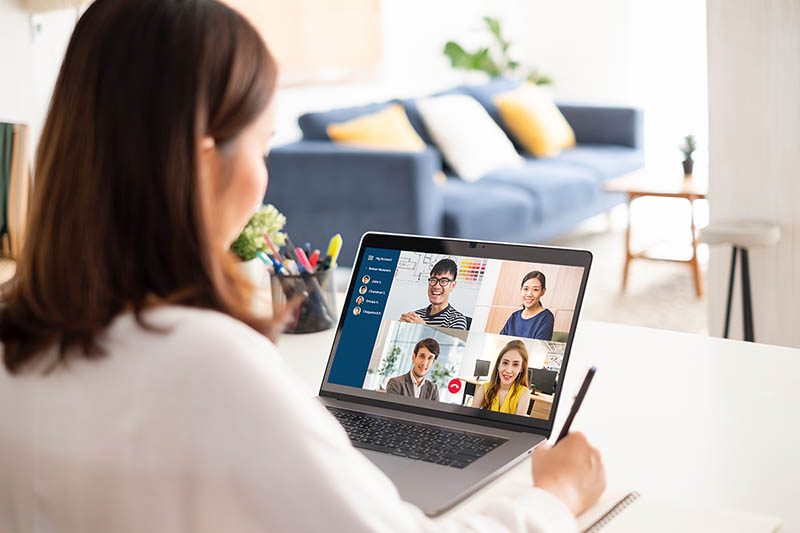 It's easy to experience FOMO (fear of missing out) and feel disconnected and siloed from your coworkers when you are working from home. It's important that you feel a part of the team—even at a distance.

Here are several ideas on how you can reconnect with your team when working remotely:
Establish strong relationships
People who work full-time spend approximately one-third of their waking hours at work. For many, the workplace is where they build strong relationships and fulfill their social needs.

Relationships are critical to overall happiness and self-esteem. When you can no longer fulfill those needs because you're working from home and rarely interacting with coworkers in person, you may feel a void in your life.

Building and maintaining strong relationships with those you work with is vital—even more so in a remote environment. Having someone you consider a friend at work can help you feel a sense of belonging, which is one of the five primary human needs. Additionally, you often will experience less stress and feel more engaged.

Even if you're not seeing your coworkers face-to-face, you can still take steps to establish and foster relationships with them. Before starting a meeting, set aside some time to talk about things outside of work, like your weekend plans, and invite meeting attendees to turn on their cameras.
Encourage communication
Whether you're the manager or part of the team, maintaining good communication is essential to not only your success as a remote employee but feeling connected to those you work with.

Most workplaces offer tools and programs to help employees communicate with one another. While email is the standard for text-based professional communication, you may want to consider using an instant messenger, where appropriate, for more informal conversations and quick check-ins.
Ask for regular feedback
If you're struggling to feel connected to specific projects and goals, ask your supervisor for regular feedback on your work.

In an office setting, employees often receive feedback through in-person conversations or accolades during meetings. Remote workers can struggle when they aren't given frequent recognition or feedback, so asking for it more often can help boost their confidence and feel more involved.

Supervisors may even consider beginning team meetings with shout-outs that spotlight the outstanding work employees are doing on a day-to-day basis. This small effort can also communicate with team members what projects their coworkers are tackling.

Related: Surprisingly Simple Tips to Help You Prepare for The Week Ahead
Create fun traditions
Many workplaces have traditions for birthdays, celebrations, or casual get-togethers. When everyone works remotely, these traditions can go by the wayside, reducing opportunities for employees to build valuable relationships with one another.

Instead of allowing these opportunities to disappear, look for ways to establish fun traditions that include remote employees. You could set up a monthly virtual happy hour or arrange for lunch to be delivered to an employee on their birthday. If your team loved playing games in the office, try setting up a virtual board game online that everyone can play together.

With a little creativity and the right tools at your disposal, you can strengthen your team's cohesiveness, even when working remotely.

Related: Maintaining a Culture of Compliance in a Remote Environment