Blueberry Banana Protein Baked Oatmeal
This healthy breakfast option is a great alternative to traditional oatmeal—especially if you prefer your breakfast on the go.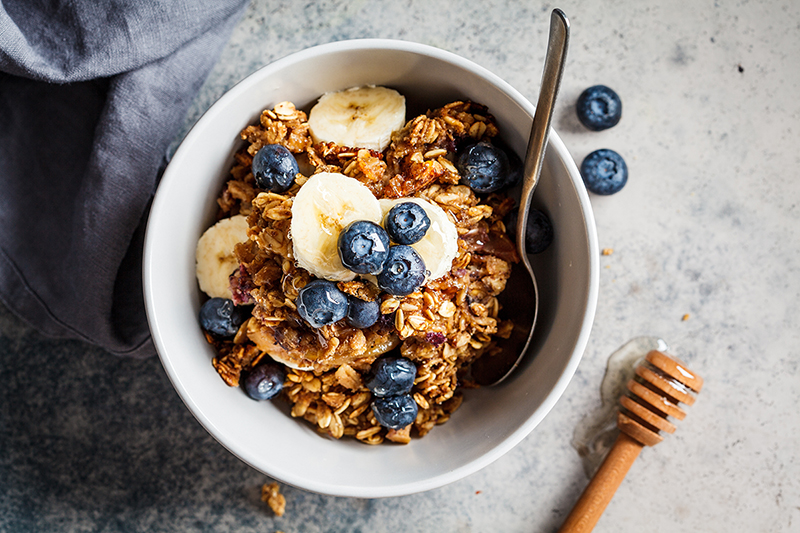 Prep time: 15 minutes
Serves: 8
Ingredients
• 2 cups regular rolled oats
• 2 cups boiling water
• 2 large bananas (+ 1/2 for topping)
• 1 egg
• 1/4 cup syrup
• 1/4 cup protein powder
• 1/4 cup hemp seeds
• 1/2 cup blueberries
• 1/4 cup sliced almonds
• 2 tsp. cinnamon
• 1 tsp. vanilla
• 1 cup almond milk
Instructions
1. Add the oats and boiling water into a mixing bowl. Allow to sit for 10 to 15 minutes.
2. Meanwhile, mash the banana in a separate bowl until as smooth as possible. Stir in the egg, syrup, and protein powder. Pour this mixture over the softened oats and stir to combine.
3. Add the remaining ingredients into the bowl and stir again to combine.
4. Pour the oat mixture into a 9x13 baking pan. Top with sliced bananas and more blueberries if desired.
5. Bake at 375ºF for 55 to 60 minutes. Allow to cool slightly, then cut into squares (or scoop out) and enjoy.
Related: Clean Eating Apple Pie Oatmeal

Nutrition Facts (per serving): 1 square: Calories: 213kcal | Carbohydrates: 31g | Protein: 7g | Fat: 8g | Saturated Fat: 1g | Sodium: 64mg | Potassium: 250mg | Fiber: 5g | Sugar: 11g | Vitamin A: 50IU | Vitamin C: 3.5mg | Calcium: 108mg | Iron: 2.1mg

Reference: "Blueberry Banana Protein Baked Oatmeal." Simply Quinoa, 20 July 2020. https://www.simplyquinoa.com/protein-baked-oatmeal/