Healthy Snacks For When you Crave Something Crunchy
You can have your delicious crunchy snack and still be healthy – here's how.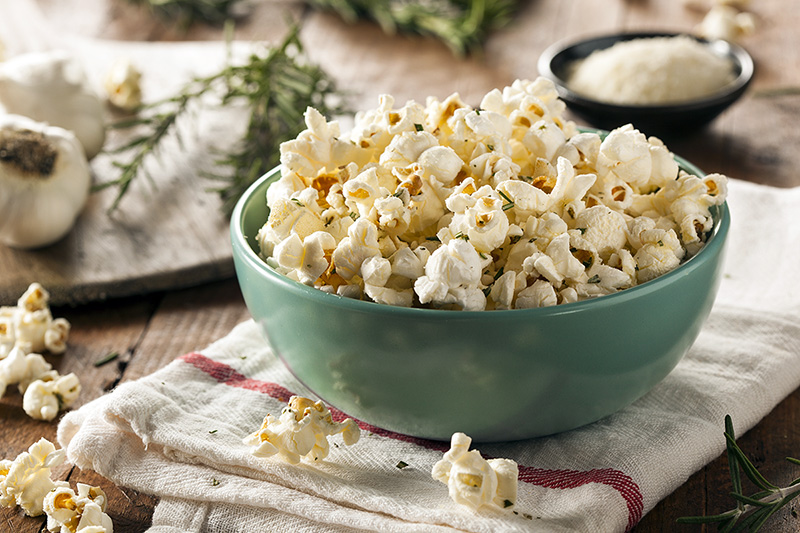 Chips, crackers, pretzels – all delicious, but unfortunately, most of our favorite packaged, crunchy snacks are packed with sodium and unhealthy fats. Here are some healthier options to munch next time you really need something with a satisfying snap.
Homemade popcorn
Popcorn may possibly be one of the easiest and most affordable snacks. While microwave popcorn is loaded with fat and over-salted, homemade popcorn is whole grain and high fiber. You can either air pop it, or put a little olive oil in a pot with a lid and pop it on the stove. Lightly salt it after popping and you're ready to go! You can see a full recipe for stovetop popcorn here.

If you're craving something sweeter, put your popped popcorn in a bag, drizzle a little honey over it, close and shake the bag and sprinkle the popcorn lightly with cinnamon.

For 20 more healthy popcorn flavor ideas (including pumpkin spice kettle corn), check out these recipes.
Related: What to Eat for the Midnight Munchies
Glorified trail mix
Nuts, seeds, chocolate chunks, dried fruit – what's not to love? Make your own healthy trail mix to pull out when you're desperate. It doesn't get much easier than that. Get ideas for your trail mix here.
Rice cakes with peanut butter
Rice cakes don't necessarily have much nutrition other than fiber, but they are satisfyingly crunchy and aren't unhealthy. Top a rice cake with any type of nut butter – peanut, almond, cashew – and you've got a bit of protein thrown in the mix. A sliced up banana on top takes it to the next level.
Check out more ideas for rice cake snack combinations here.
Crispy Chickpeas
If you like corn nuts, you'll probably like crispy chickpeas.

Chickpeas have a lot of health benefits. Besides providing a great plant-based protein, they are full of minerals like magnesium and potassium. Those two minerals help boost heart health.

Making crispy chickpeas is simple. You only need an oven and three or four ingredients. Even better, they keep for a few days so you can make them in advance to cover your snack cravings for a week. Try this delicious recipe from Minimalist Baker.
Sweet Potato chips
Sweet potatoes provide fiber, antioxidants (which protect your body from free radicals), minerals and vitamins. This tasty orange food is good for your eye and gut health, brain function and immune system. The skin of the sweet potato has a lot of the health benefits, so keep it on when you eat your potato.

Otherwise, not a lot needs to be said about sweet potato chips other than they're delicious. You're only thirty minutes away from yumminess if you use this recipe.
Energy balls
This tasty energy ball is basically like eating a chocolate chip cookie but healthier. They are simple to make, don't require baking and can be kept in your freezer for a long time so you can pull them out whenever you want.
Related: Dairy-free Fudgesicles
Ants on a log
Spread a piece of celery with peanut butter and put raisins on top. Voila! The name of this treat (whose origin is elusive) may be odd, but the flavor is delicious. It provides fiber and protein and there's not really anything crunchier than celery.

For even more ideas on healthy snacks, check out these ideas for easy food that's under 200 calories, or how to snack like a dietician.