Easy Pressure-Cooker Red Pepper Chicken Recipe
Don't have the time to cook? Check out this healthy chicken dish.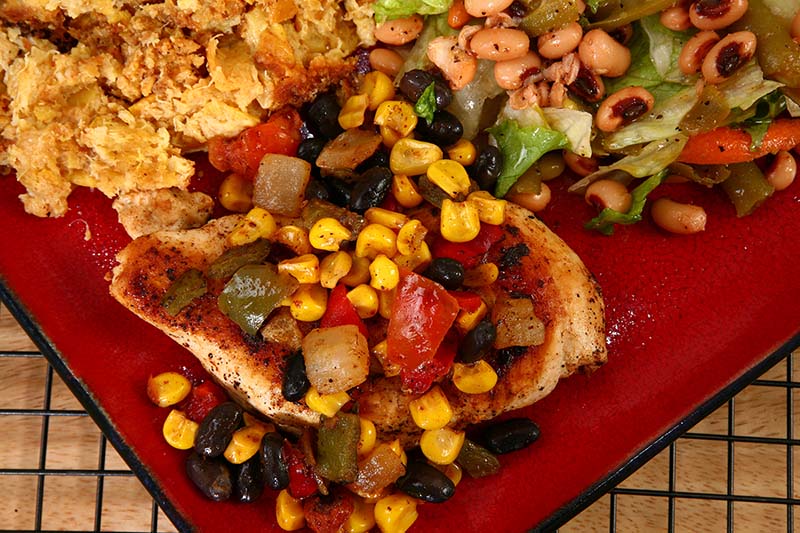 Prep time: 15 minutes
Cooking time: 15 minutes
Serves: 4
Ingredients
4 boneless skinless chicken breast halves (4 oz. each)
1 can (15 oz.) no-salt-added black beans, rinsed and drained
1 can (14½ oz.) Mexican stewed tomatoes, undrained
1 jar (12 oz.) roasted sweet red peppers, drained, and cut into strips
1 large onion, chopped
½ cup water
Pepper to taste
Hot cooked rice
1 can yellow corn, rinsed and drained (optional)
Instructions
Place chicken in a 6-qt. pressure cooker.
In a bowl, combine beans, tomatoes, red peppers, onions, water, pepper, and corn (if desired).
Pour mixture over chicken in the pressure cooker.
Lock lid and close pressure-release valve.
Pressure cook on high for 5 minutes.
Quick release pressure and then press Cancel.
Insert a thermometer into the chicken and ensure that it's at least 165°.
Remove chicken from the pressure cooker and keep warm.
Select sauté setting and adjust to low heat.
Simmer cooking juices until thickened, about 8 to 10 minutes.
Serve cooking juices alongside chicken and rice.
Nutrition Facts (per Serving): Calories: 288 cal | Carbohydrates: 28g | Protein: 30g | Fat: 3g | Saturated Fat: 1g | Cholesterol: 63mg | Sodium: 657mg | Fiber: 7g | Sugar: 8g

Related: Quick and Easy Restaurant-Style Salsa

Reference: "Pressure-Cooker Red Pepper Chicken." Taste of Home, https://www.tasteofhome.com/recipes/pressure-cooker-red-pepper-chicken/.