7 Tips To Make Healthy Eating Fun for Kids
Follow these tips to make healthy eating more fun and appealing to your kids.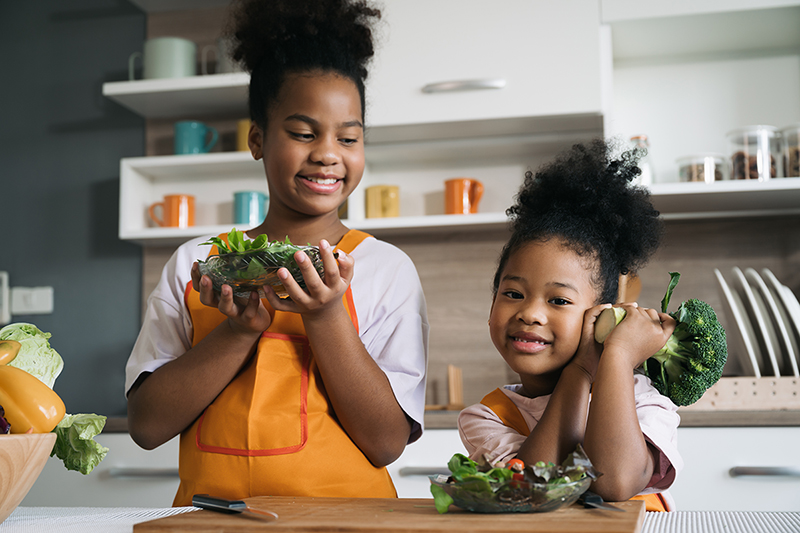 Healthy eating is important during all stages of life, but it's something that is especially important during developmental phases.

Children need a number of key nutrients, including vitamins and minerals, to aid in the development of their bodies, but getting kids to eat healthy can feel like an impossible challenge.

Follow these easy tips to make healthy eating more fun and appealing to your kids.
Serve familiar staples using healthy alternatives
If your kids love pizza, don't eliminate it from the menu. Keep familiar and popular staples on your table while using healthy food alternatives.
For example, you could spread fresh tomato sauce on whole-wheat pita bread and top it with part-skim cheese and veggies. Bake it in the oven to make a lightened-up version of pizza that delivers a serving each of whole grains, dairy, and vegetables.
Meatballs made with ground turkey and whole-grain breadcrumbs pair well with zoodles (zucchini noodles) and other healthy pastas. Introduce your kids to healthy ingredients while helping them enjoy the foods they know and love.
Involve your kids in the preparation of healthy meals
When kids feel like they're involved in the preparation phase of mealtime, they may be more likely to consume the foods that come out of it. Make meal prep a family affair by allowing children of all ages to provide some hands-on help.

Younger kids can assist with stirring and adding ingredients, while older kids and pre-teens can help chop veggies and fruits or even whip up parts of a recipe on their own.

Related: Tips For Becoming Healthier As A Family
Invest in cookie cutters
Cookie cutters are for more than just cutting out sugar cookies – you can use them to cut healthier food options into fun and appealing shapes that your kids will love.

Try cutting a sandwich into a heart shape to see if your children are more likely to take a bite. Cut a circle out of a slice of whole-grain bread and cook it in a pan with a fried egg or egg white in the middle for a balanced breakfast.
Whip up a smoothie or shake
Blending up fruits and veggies is a great way to incorporate them into your child's diet. If you have a kid who can't get enough of milkshakes and smoothies, find ways to make them healthier by adding fresh produce.

A handful of spinach might turn the shake green, but it doesn't alter the taste when you include flavorful fruits like strawberries or raspberries. If you have trouble getting your child to consume enough calcium, try adding some yogurt or milk to a smoothie as another dairy source.

Adding a fun straw can make enjoying a blended drink even more appealing to kids.
Keep a healthy snack shelf ready
If your kids tend to fill up on carb-heavy snacks between meals, clear out some space in the fridge to create a healthy snack shelf that includes items you want them to snack on. Easy-peel Clementines, sliced apples, beef or turkey jerky, raisins, part-skim string cheese, and baby carrots are grab-and-go snacks that kids can enjoy anytime without getting too full.
Talk about the benefits of healthy eating
As your kids get older, you can help them better understand the importance of a balanced diet and how healthy eating will benefit them. If you have children who are involved in physical activities, such as after-school sports or dance, talk to them about how nutrition impacts their performance.

Focus on the importance of a balanced diet and using food as fuel.
Have fun with food
Although playing with your food might have been against the rules in your household growing up, look for ways to have more fun and get creative with food. Let your kids create faces on their food with condiments and sliced fruits or veggies. Allow them to express their creativity and have fun before enjoying their meal.

Related: Become a Healthier At-Home Chef

With these tips, you can make mealtime more enjoyable at home while helping your kids get the nutrients they need to grow and develop. Remember that kids' tastes and preferences change as they get older, so introducing and offering a range of foods can be a great way to appeal to even the pickiest of eaters.