Yellow Squash Veggie Tots with Garlic Yogurt Dip
In 25 minutes, you can enjoy a healthy squash snack with a savory garlic dip.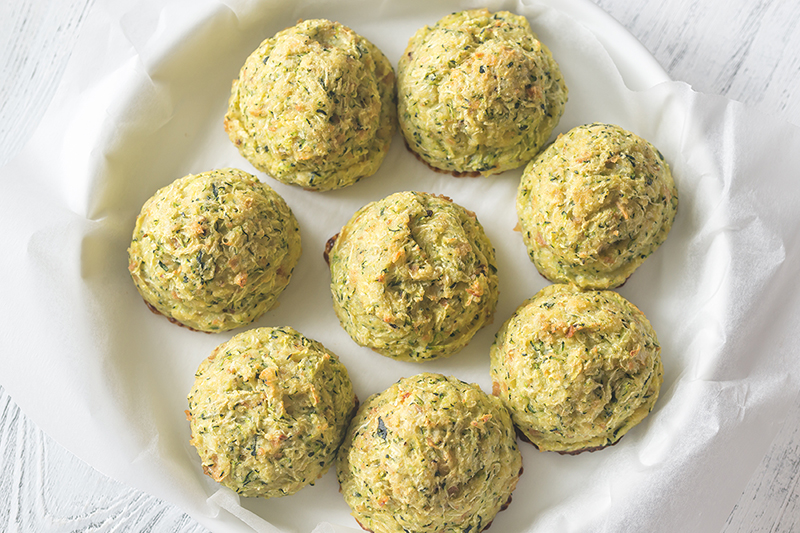 Prep time: 20 minutes
Cooking time: 25 minutes
Serves: 4 (24 tots)
Ingredients
3 small yellow squashes or zucchini
1 egg
4 oz. grated cheddar cheese
¾ cup bread crumbs
½ medium onion, finely chopped
½ tsp. garlic powder
½ tsp. salt
Ground black pepper, to taste
2 tbsp. to ¼ cup finely minced parsley leaves (optional)

For yogurt dip
1/3 cup unsweetened Greek yogurt
2 tsp. lemon juice
1 tsp. finely minced parsley
¼ tsp. garlic powder
¼ tsp. salt
¼ tsp. pepper
Instructions
Preheat oven to 400°F.
Line a large baking sheet with parchment paper or grease the baking sheet with olive oil.
Grate the squash on a fine grater. Add salt and mix together. Put the grated squash in a colander. Let it sit as you prepare the rest of the ingredients.
Use your hands to squeeze the extra liquid from the grated squash and discard the liquid.
Combine all the other tot ingredients with the grated squash in a large bowl and mix well. The mixture should be sticky and wet. If it is too wet, add extra bread crumbs.
Arrange the tots on the baking sheet and cook for 25 minutes or until golden on top and lightly browned on the bottom.
Allow to rest for 5 minutes before removing the tots from the baking sheet.
While the tots are cooling, combine the ingredients for the yogurt dip and mix well before serving.


Nutrition Facts (per Serving): Calories: 290 cal | Carbohydrates: 25g | Protein: 15g | Fat: 0g | Saturated Fat: 7g | Sodium: 669mg | Fiber: 4g | Sugar: 6g

Related: Baked Zucchini Fries
Reference: "Yellow Squash Tots with Garlicky Yogurt Dip." Babaganosh, 24 Nov. 2020, https://www.babaganosh.org/yellow-squash-tots/.