Fruit Salad with Honey Lime Mint Dressing
Chef Mary shares her recipe for a refreshing fruit salad–the sweet flavors make this a perfect side dish or dessert.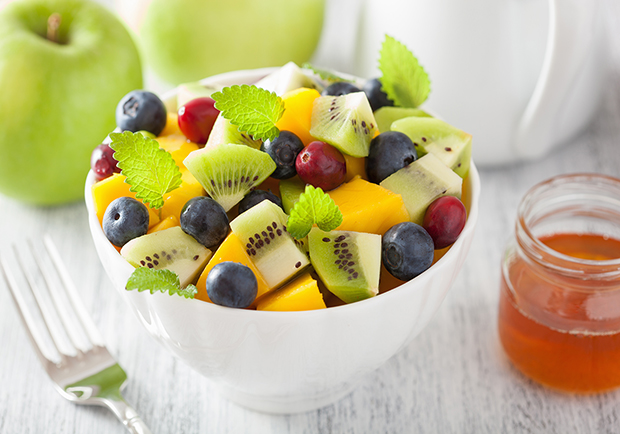 Yield: 8 one-cup servings
Preparation Time: 45 minutes
Note: Use any combination of fresh seasonal fruits, totaling 8 cups
Ingredients:
1 large ripe but still firm mangos or peaches, peeled, and cut into chunks
1 ½ cups ripe pineapple cut into bite-size chunks
1 cup blackberries, raspberries, blueberries, or sliced strawberries
1 cup firm, red seedless grapes
1 ½ cups ripe seedless watermelon cut into bite-size chunks
1 ½ cups ripe cantaloupe, seeded and cut into bite-size chunks
Related: Raspberry Lemon Greek Yogurt Ice Pops
Dressing
¼ cup honey
Juice of 1 lime
2 tbsp. fresh mint leaves, chopped
1. Rinse and allow any berries and grapes to air dry. Gently mix all fruits together in a large bowl then cover and chill fruit while making the dressing.
2. In a small sauce pan, over medium-low heat, warm honey and lime juice together, stirring frequently until honey has dissolved. Remove dressing from heat and cool 10 minutes; stir in mint.
3. Cover and allow to continue cooling to room temperature. Chill at least 1 hour before adding to fruit salad.
4. Once dressing has chilled, gently stir into fruit. Cover and chill salad several hours before serving.
Nutritional Information: (Per 1 cup) 100 Calories; 0g Fat; 27g Carbohydrate; 3g Fiber; 1g Protein; 0mg Cholesterol; 7mg Sodium
Select Health may link to other websites for your convenience. Select Health does not expressly or implicitly recommend or endorse the views, opinions, specific services, or products referenced at other websites linked to the Select Health site, unless explicitly stated.
The content presented here is for your information only. It is not a substitute for professional medical advice, and it should not be used to diagnose or treat a health problem or disease. Please consult your healthcare provider if you have any questions or concerns.