Quick Butternut Squash Soup
Whip up a bowl of this delicious gluten-free soup.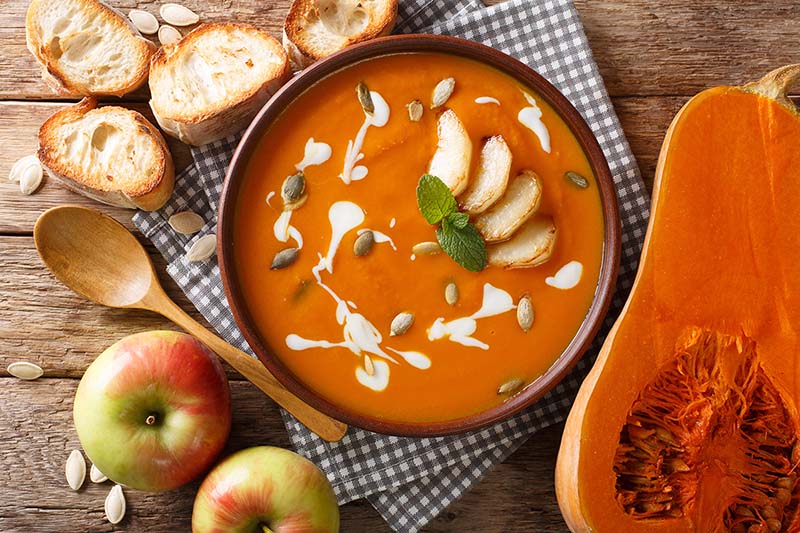 Prep time: 15 minutes
Cooking time: 20 minutes
Serves: 4
Ingredients
4 cups peeled and cubed butternut squash, roasted
A few dashes of cinnamon and salt
1 tbsp. coconut oil
1 large apple, peeled, cored, and cubed
½ large yellow onion, diced
½ tsp. to 1 tsp. curry powder
3.5 cups vegetable broth
½ cup milk
1 tsp. salt
Toppings (Optional)
Cream
Pumpkin seeds
Instructions
Season cubed butternut squash with cinnamon and salt.
Heat oven to 425°F and cook the squash for 30 minutes.
Sauté apple and onion in coconut oil with curry powder and a few dashes of salt in a large skillet over medium-high heat until softened.
Add broth, milk, and squash to the skillet and bring to a boil. Reduce heat and simmer uncovered for 20 minutes. Stir in salt to taste.
Blend soup in either an immersion blender or high-speed blender until soup is smooth and creamy.
Top with pumpkin seeds and cream.
Nutrition Facts (per Serving): Calories: 163kcal | Carbohydrates: 32g | Protein: 2g | Fat: 4g | Saturated Fat: 3g | Sodium: 743mg | Fiber: 9g | Sugar: 7g

Related: Creamy Pumpkin Soup

Reference: "Butternut Squash Soup." Kim's Cravings, 26 Aug. 2021, https://www.kimscravings.com/copycat-recipe-panera-breads-autumn-squash-soup/.