Give Yourself the Ultimate Self-Care Day at Home
Take a deep breath. It's time to clear your schedule and make time for yourself.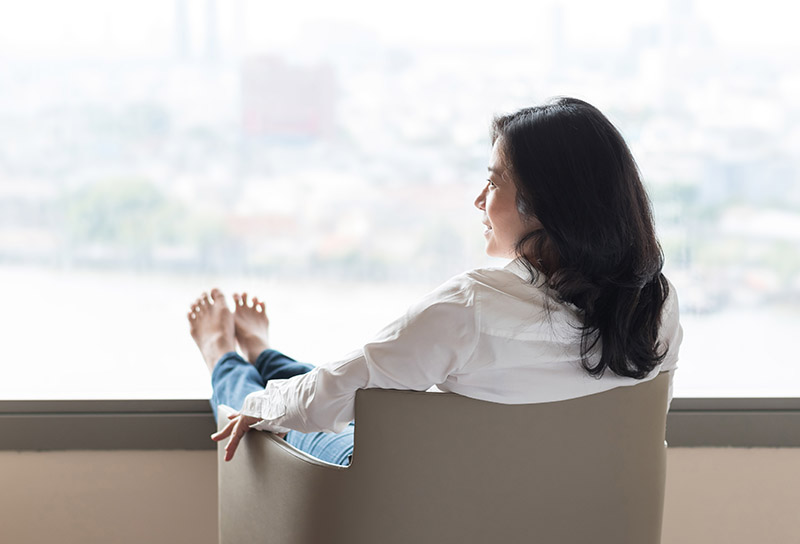 Taking care of your physical and mental health is a worthwhile investment. Getting in the habit of self-care can help you feel more relaxed, refreshed, and ready to take on the challenges of daily life.
Why you should care for yourself
Self-care looks different to various people. For one person, the ultimate in relaxation might involve relaxing on the couch with a good book. For another, self-care includes an outdoor run in a nearby park.

Life is hectic, especially as you take on more responsibility. Feeling overwhelmed and burned out can worsen symptoms of anxiety and depression, causing your mental health to spin out of control.

When you're responsible for people other than yourself, you may feel burned out or exhausted by the end of the day or week. By taking some time for yourself, you can reset your life and feel more available to those who rely on you. When you're overwhelmed and busy, taking just a few minutes to unwind can deliver a familiar sense of calm.

Whether you call it self-care or not, taking the time to care for your unique needs is an important aspect of your mental and physical well-being. Dedicating time to yourself has many benefits such as improved sleep.

Related: Finding Freedom from Burnout
Make the most of your self-care routine
Whether you have an entire day to devote to your needs or you're spending 15 minutes on yourself, you can make the most of the habit. Start by clearing your schedule in the time you're allotting to self-care.

Don't overbook yourself or schedule something over the time you should be relaxing and enjoying some time to yourself. Tell those around you that you'll be unavailable and arrange for coverage for those you care for if needed.

You can also plan activities to engage in during your day of self-care. If your idea of relaxation includes a manicure and pedicure at your favorite nail salon, book an appointment. If you plan to soak in a relaxing bubble bath, make sure you have the supplies needed to get comfortable in the tub.

Related: Developing a Self-Care Plan
Ten self-care ideas
Struggling to know how to pamper and care for yourself? Here are ten easy ideas.


Take a longer shower or bath: Soaking in the tub or taking a few extra minutes in the shower can help you feel pampered. Use your favorite body wash, moisturize, use that hair mask you've been waiting to try, and enjoy the feel of the warm water on your skin.
Catch up on a favorite podcast: Podcasts can be entertaining, informative, and educational. Listen to an episode or two to unwind and separate from your daily routine.
Spend time outside: Getting outdoors can do wonders for your mental health. Head out for a hike or even just walk around your neighborhood. You'll be amazed at how the visual aspects of nature can soothe your mood and restore your sense of balance.
Make something with your hands: Crafting is a fun hobby, but many people don't have time to do it. As part of your self-care routine, use your hands to knit, crochet, paint, draw, or engage in another favorite craft-related hobby.
Binge your favorite show: Watching TV can separate you from the stresses of everyday life. During your "me time," catching up on a few episodes of your favorite show can help you do a mental reset.
Light a candle: Certain scents can bring us back to other events and situations in life. Even something as simple as lighting a candle can help you feel more relaxed and recall positive memories associated with the scent of the candle.
Curl up with a book: Escape everyday life by reading a book that tells a fascinating and engaging story. There's something for every preference when it comes to reading material and genres, so visit your local library to find something new.
Have a dance party: Moving your body can also help you overcome feelings of stress and anxiety. Turn on your favorite tunes and dance through your house to have some fun while you move.
Indulge in your favorite drink: Whether you're a fan of herbal tea, iced coffee, or flavored water, indulging in your favorite beverage is a great way to care for yourself.
Pamper yourself: For you, pampering might include a massage or doing your hair and makeup. No matter what feels pampering to you, indulge and watch as your self-confidence increases.


Taking time to care for yourself and your needs isn't selfish—it's essential to your well-being. As the old saying goes, you can't fill another's cup if yours is empty. Fill your metaphorical cup by providing for your own needs. You'll be better equipped to handle the needs of those who rely on you.