Dark Chocolate Quinoa Breakfast Bowl
Put down the cereal and step up your breakfast game. Try this healthy recipe to jumpstart your day.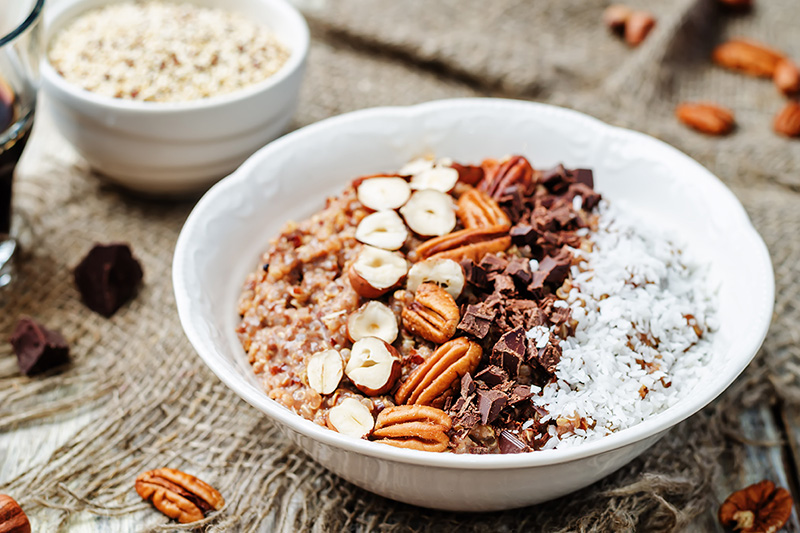 Prep time: 5 minutes
Cooking time: 25 minutes
Serves: 4
Ingredients
1 cup uncooked white quinoa
1 cup unsweetened almond milk
1 cup coconut milk
1 pinch sea salt
2 tbsp. unsweetened cocoa powder
2-3 tbsp. maple syrup or coconut sugar
½ tsp. vanilla extract (optional)
3-4 squares vegan dark chocolate, roughly chopped
Instructions
1. Thoroughly rinse quinoa in a mesh strainer for 2 minutes, using your hands to sort through and pick out any discolored pieces or pebbles that may remain.
2. Heat a small saucepan over medium heat. Once hot, add rinsed and drained quinoa and toast for 3 minutes, stirring frequently.
3. Add almond milk, coconut milk, and a pinch of salt. Stir and bring to a boil over high heat then reduce to low heat. Cook for 20 to 25 minutes, uncovered and stirring occasionally.
4. Once the liquid is absorbed and the quinoa is tender, remove from heat and add cocoa powder, maple syrup, and vanilla. Stir well to combine.
5. Serve each bowl with a small square of vegan dark chocolate.
Related: The Health Benefits of Dark Chocolate
Nutrition Facts (per Serving): Calories: 236 cal | Carbohydrates: 40.9g | Protein: 7.5g | Fat: 6.7g | Saturated Fat: 3.1g | Cholesterol: 0mg | Sodium: 120mg | Fiber: 4g | Sugar: 9g

Reference: "Dark Chocolate Quinoa Breakfast Bowl." Minimalist Baker, https://minimalistbaker.com/dark-chocolate-quinoa-breakfast-bowl/.