6 Ideas to Make Meal Prep Easier
Prepping your meals ahead of time can help you eat healthier, save money, and make more mindful eating decisions, but it can also be overwhelming. Learn ideas to make meal prepping easier.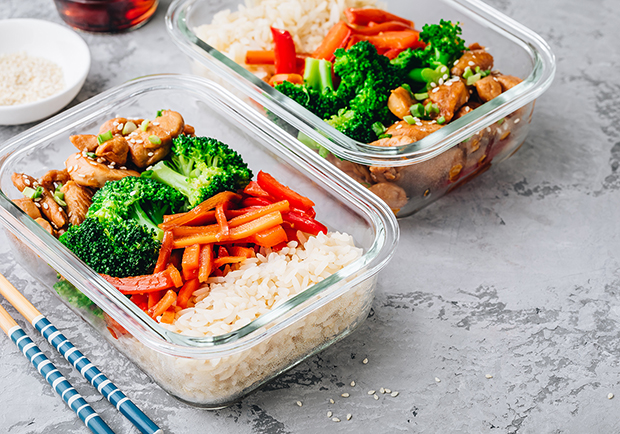 Look at you committing to improving your health, one good decision at a time. And, because you're so smart, you know that fad diets aren't the way to go, but meal prepping is a sure way to save money, reduce stress, conserve time, and create healthy meals. But there's just one problem: Meal prepping can be downright overwhelming. You're a mere mortal—how are you supposed to create twenty-one meals ahead of time?
Don't panic. We'll show you ways to simplify the process and make meal prepping much easier and much less overwhelming.
1. Start small
It's hard not to compare yourself to others on Instagram who manage to get seven dinners and seven lunches figured out for their entire family in just one evening. If you put those kind of expectations on yourself, prepping your food will be a nightmare.
In the beginning, focus on preparing just two days' worth of meals at a time. See how much food you actually need to feel full so you can prepare the right amount. Once you get the hang of things, try preparing for three days.
Related: How to Eat Better without Hurting Your Wallet
2. Set a night aside
Meal prep is just like going to the gym or practicing the piano: It's really easy to find excuses not to do it. Go ahead and block out time in your calendar for preparing and shopping. Again, this takes experimentation in the beginning, so don't beat yourself up for not knowing how much time you'll need to plan and shop.
You may try setting aside an hour on Friday night to pick out three recipes to try and then time on Saturday morning to shop and cook. Find what works for you.
3. Buy containers
Give yourself a treat and buy some nice microwavable glass dishes (like these) before meal prepping. Having a meal prep set of containers keeps your meals uniform and is downright encouraging: It just feels satisfying placing food you've prepared into nice dishes. Otherwise you're left scrounging up some old plastic containers, and that's not very motivating.
Related: No-bake Energy Bites
4. Get a shopping list ready
You might fail your first attempt at meal prepping: You might dislike the food you've prepared or ruin a recipe or forget a lunch at home. That's perfectly fine: It just means you're human, so be gentle with yourself. You can, however, minimize the chance of something going wrong by getting a shopping list ready with everything you'll need for each recipe you're preparing.
That sounds obvious, but many people try to do the math in their head once they get to the store or just try to remember what they need, and that never turns out well. Choose your recipes, write out your shopping list, and bravely forge into the supermarket.
5. Start simple
Here's a secret: making three days' worth of peanut butter and jelly sandwiches for lunches is still meal prepping. There's no shame in that meal prep game. You aren't trying to impress anyone; meal prepping is all about your food and your needs, so start with simple recipes that you know you'll like. Start with simple recipes means that you'll build your confidence in your meal prepping abilities and feel comfortable expanding to more complicated recipes later, if you wish.
6. Don't reinvent the wheel
Other people have already figured out how to meal prep, so just copy their suggestions. Here are five ways to prep a chicken bowl and here are nineteen recipes that can be made in one pan. Pinterest is the easiest and fastest way to find thousands upon thousands of meal prep ideas; start there and get inspired.
Good for you for making the choice to start prepping your food! These six tips are surefire ways to help carry your enthusiasm throughout the initial meal prep process. Remember: Don't be discouraged if your first try isn't perfect. Start with small steps and you'll find that in no time you'll be a meal prepping champion. Then…well, we won't blame you for getting on Instagram and sharing all your meal prep mastery.
Select Health may link to other websites for your convenience. Select Health does not expressly or implicitly recommend or endorse the views, opinions, specific services, or products referenced at other websites linked to the Select Health site, unless explicitly stated.
The content presented here is for your information only. It is not a substitute for professional medical advice, and it should not be used to diagnose or treat a health problem or disease. Please consult your healthcare provider if you have any questions or concerns.