Feeling Overwhelmed? Here's the Key to Balancing Work, Schooling From Home, and Life
We are all going to have a lot of new responsibilities this fall. These tips can help you prepare.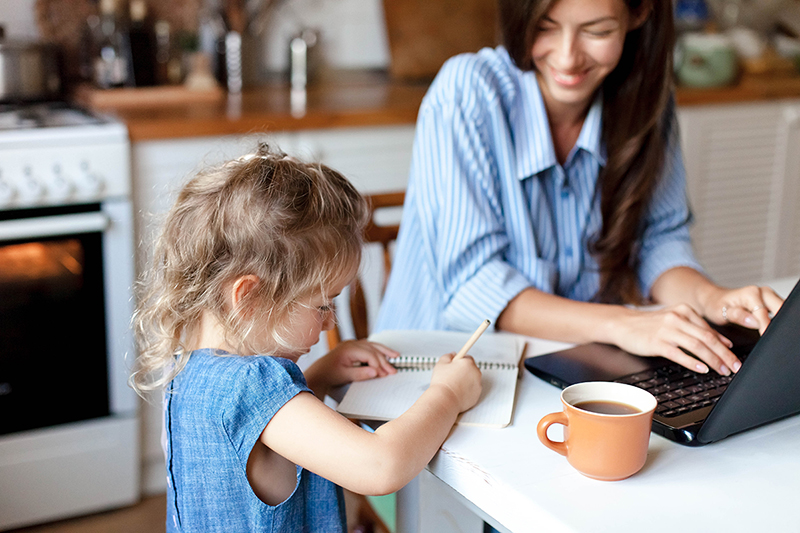 Finding a balance between all of your responsibilities has likely always been challenging, but now you may also be adding schooling from home to your list. You may already be wondering how you're going to make time to help your kids learn math while meeting with your boss, cooking meals, and keeping up with the other rigors of the day. Follow these tips to help you manage your day and find more balance.
Stick to a routine
Try to create a schedule that you and your family can abide. This will help set expectations so that each person knows where they can contribute. Routine keeps things in order.
Related: 7 Ways to Practice Mindfulness and What it Can Do For You
If your kids are on the same schedule each day, make one that is sustainable for the week. But if you are taking each day one at a time, take a half an hour each night to create a schedule for the next day. Most importantly, keep your schedule somewhere you can check on it or see it often, whether on your fridge, on your phone, or in a planner.
Wake up earlier
Try to start your day a few hours earlier than your kids. This will give you more time to prepare for the day mentally and get some extra work (or even a workout) done before the kids come asking for homework help.
Keep a to-do list
Consider making a categorized to-do list with sections for "work," "school," and "other." Write down what you need to get done in those categories each day to help remind you of your priorities. If this approach isn't helpful, consider other ways to track your responsibilities.
Meal prep
Instead of wandering aimlessly through the aisles of the supermarket, you can order your groceries online and pick them up later, saving you a lot of time and energy! With this in mind, try planning out your meals at the beginning of the week to take the stress out of trying to figure out what to make for dinner every night. You can even make many meals ahead of time and keep them in your fridge until you're ready to pop them in the oven.
Make time for play
Try not to allow your workday or your kids' school day overrule family time. Be sure to set clearly defined parameters around time to ensure you are still creating opportunities for breaks. Keep it simple with board games, walks, or a quick game of soccer in the backyard.

Related: The Importance of Proper Nutrition as We Age
Don't burn yourself out
Sometimes no matter how hard you try, you just can't do it all. If you have to leave the dirty dishes piled in the sink overnight, do it. If you have to take a breather when you can't figure out your child's algebra equation, go for it. Be patient and kind to yourself. Don't be afraid to take much needed time for yourself when you feel overwhelmed.


Select Health may link to other websites for your convenience. Select Health does not expressly or implicitly recommend or endorse the views, opinions, specific services, or products referenced at other websites linked to the Select Health site, unless explicitly stated.
The content presented here is for your information only. It is not a substitute for professional medical advice, and it should not be used to diagnose or treat a health problem or disease. Please consult your healthcare provider if you have any questions or concerns.