Here Are Dairy-free Alternatives to Drinking Milk
Give the cows a break and check out some alternative milks to pour on your cereal. Not only are they tasty, they're also nutritious.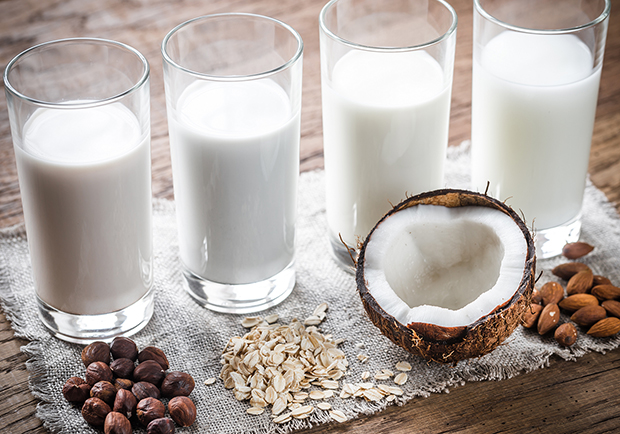 For some people, eating cheese and drinking milk isn't an option, so we've compiled a list of milk alternatives and reasons you should give them a try. Oh, and while there's a debate over using the term "milk" to describe any drink that isn't from a cow, we're sticking with the word in this article because it just makes sense.
Almond milk
The most popular cow milk alternative, almond milk is made by blending almonds with water, then straining out the solids. Almond milk is now sold at just about every grocery and convenience store, and it has about 90 calories and 2.5g of fat in 8 ounces.
Be sure to buy unsweetened almond milk, as many manufacturers add sugar to make it taste sweeter. Almond milk is especially delicious on cereal and in Cream of Wheat. If you're into controlling exactly what's in your almond milk and want to save money, you can make your own easily.
Related: Homemade Vanilla Almond Granola
Cashew milk
Another delicious nut milk, cashew milk has a fair amount of vitamin K and iron without any lactose. If you buy cashew milk from the store, it has about 40 calories and 3 carbs in every cup, and is available unsweetened. And, just like almond milk, you can make your own cashew milk at home and save money. Cashew milk is great for baking—especially in cookies.
Hemp milk
Hemp milk has a thicker texture than almond and cashew milk, so it tends to be more filling. More and more coffee shops are offering hemp as an alternative to soy milk because they don't have to worry about customers with nut allergies and hemp still steams well for espresso drinks. Hemp milk contains a calcium and omega-3 and omega-6 fatty acids. You can make your own, but hemp seeds aren't as readily available as nuts. Hemp is a great choice for those with nut allergies or those who are concerned about soy's possible effect on estrogen.
Related: Dairy-free fudgesicles
Coconut milk This delicious milk is watery and tastes great in iced drinks and in recipes (especially curry!). It's made by grating the meat of a coconut and straining the chunky bits out. A half cup contains about 169 calories and 16.9 fat, so if you're looking to increase fat in your diet, coconut milk is a good bet. Plus, it has fiber (which helps with satiety and digestion) and vitamins C, E, B1, B3, B5 and B6.
Oat milk
Plant-based diets are becoming increasingly popular, and because of this, oat milk has also become an option as an alternative to milk. But, what is oat milk? Oat milk is made by soaking steel-cut oats or whole groats, then blending and straining with a cheesecloth. It's a good option for those who have nut and dairy allergies. Plus, it's a good source of fiber, protein, and minerals like vitamin B and folate.
Soy milk
You've absolutely heard of soy milk before. This popular alternative to cow's milk has about 131 calories per cup with 15 carbs and 8 grams of protein. Soy milk is made by soaking soy beans with water, blending them, then straining the solids from the milk.
If you're lactose intolerant, vegan, or simply want to branch out, there are so many exciting options for milk now. Confused about which milk to use when? Check out this handy article to help you decide and then prepare to start your alternative milk adventure!
Select Health may link to other websites for your convenience. Select Health does not expressly or implicitly recommend or endorse the views, opinions, specific services, or products referenced at other websites linked to the Select Health site, unless explicitly stated.
The content presented here is for your information only. It is not a substitute for professional medical advice, and it should not be used to diagnose or treat a health problem or disease. Please consult your healthcare provider if you have any questions or concerns.