Sleep Habits: What Does The Way You Sleep Say About You?
Right-side sleeper? Left side? Stomach? Back? Find our what your preferred sleep position says about you.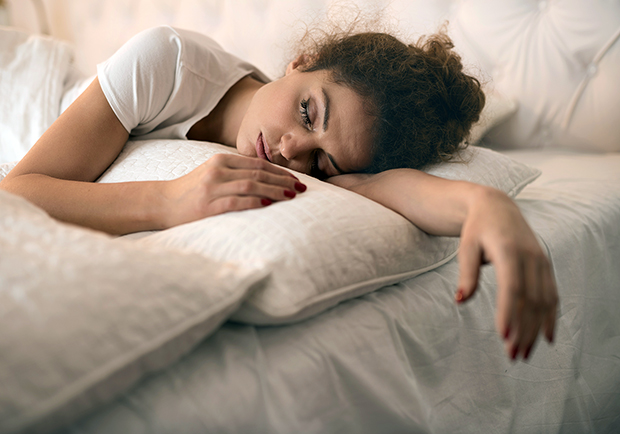 Regardless of how you sleep, one thing is certain—your sleeping pose can influence your overall health.
Related: What is Sleep Hygiene and Why is it Important?
Back Sleepers
Did you know if you are a back sleeper, you're one of only 8% of the population? It may not be the most popular position, but it's actually the healthiest position for you.
When you sleep on your back, you stay in a neutral position, meaning there is less pressure on your head, neck, and spine. This reduces the chances of putting extra pressure on those areas and will help properly maintain your head and spine alignment.
Sleeping on your back, especially with your head elevated, also helps decrease acid reflux. When your stomach is below your esophagus, it reduces the possibility of food or acid traveling up and causing heartburn.
Dermatologists and estheticians also claim sleeping on your back is best for your skin. The reason? You aren't putting any extra pressure on your face or transferring the oils from your pillow onto your face. This helps stave off premature wrinkling and acne.
Related: 5 Tips For Getting a Better Night's Sleep
Side Sleepers
If you are prone to sleep apnea or snoring, then you may want to opt for the second best position for sleeping—on your side. When you are sleeping on your side, your airway stays open, and it's much easier to breathe.
Additionally, if your neck is supported by a pillow, and your spine is elongated while you sleep, you are at little risk of back and neck pain caused by sleeping.
It's also worth noting that sleeping on your side is necessary in some instances. For example, pregnant women are advised to sleep on their left side with a pillow between their legs. This position helps alleviate back pain, decreases risks of hypertension, increases blood flow, and ensures you're not putting unnecessary pressure on your fetus or your internal organs.
If you prefer sleeping on your side, you're in good company, because it's the most popular position. Just remember to sleep with your legs extended, rather in the fetal position, for optimal benefits.
Stomach Sleepers
Sleeping on your stomach may be comfortable, but it is actually touted as the worst sleeping position for several reasons. This position doesn't provide support for your back, which leads to overarching of the spine. This could result in mild to severe back pain.
Stomach sleeping also puts pressure on your joints and muscles. If you are a stomach sleeper, chances are you wake up with muscle and/or joint pain, aches, numbness, or tingling every so often.
The one advantage that comes with sleeping on your stomach, however, is that it may reduce snoring.
If you're noticing any adverse side effects from your sleep position, consider mixing things up. Maybe you'll discover you get a better night's sleep!
Check out other healthy living articles.