Why Our Company Culture Sets Us Apart
Here's why I think creating a safe, welcoming, and supportive culture at work is not only important for our employees, but for the members we serve.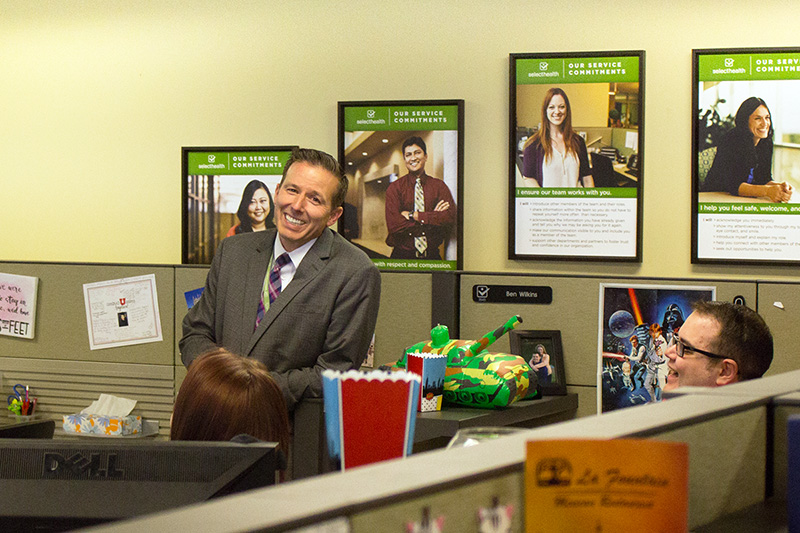 As a health plan, members contact us every day about a wide range of circumstances—from having a baby to losing a family member. These life events can be stressful, sad, happy, or life altering. Members are calling us during vulnerable times, and they need to be cared for as human beings. In some instances, we're helping members during the most difficult time in their lives, and it's our opportunity to be empathetic while helping resolve their concerns.
Service isn't a chance, it's a choice
Providing good service is deliberate. We're choosing to make our members the focus of our day-to-day work—because it's not a matter of luck when we've had a good customer service experience with a member, it's a conscious choice to create a positive experience. It's our choice to help make a difference, provide value, and help them live the healthiest lives possible.
That's why it's especially important to set aside metrics and really focus on solving the member's issue. We don't discount metrics such as call time, availability, and response time—they're still important in our line of business—but it's better that our culture be the driving force of the service we provide rather than metrics. We prefer to focus on the quality of phone calls with members rather than the quantity— ensuring that our customers are at the center of our attention.
It starts with the right team
When hiring, we seek out people who want to help and care for others-- because that's exactly the type of people we need on our team. To keep our teams engaged, it's important that they enjoy their work, feel supported, and have a good relationship with their boss and peers.
In my mind, there's a direct tie to our caregivers' experience with our members' experience. As leaders, we create a supportive and caring environment for our teams so they can create the same environment for our members. After all, it would be difficult to treat a member better than we're being treated at work.
Modeling a positive culture is paramount
I consider two primary characteristics when I think about people who have influenced my life: It's those who have expressed sincere interest in me and those who model good behavior.
Modeling superior service begins with our leaders—this truly sets the tone of our company. If everyone in our company sees leaders modeling good behavior, then we'll work in an environment where we all feel supported. If I ask someone to go the extra mile, I need to be willing to do the same.
A positive culture at work drives the service we provide to our customers. While we have an extensive training period for our member service teams (6 to 7 weeks in length), everything we teach in training about superior service becomes null and void if our teams don't experience a welcoming and supportive culture after training has ended.
What differentiates us from others
As a company, it's our main goal to be customer-centric. While we understand that cost is a big driver in the world of healthcare, we want to provide value by going above and beyond to help solve an issue. An extraordinary customer service experience is not typical in the insurance industry, so it's my hope that our superior service is what will always set us apart.
We want to understand our customers' needs so they don't have to make more than one phone call to solve an issue. To do this, we had to change our service model and workflow processes to be more reflective of our members. We're not rushing through phone calls; instead, we're solving a member's issue in one phone call 97% of the time.
In our industry, the average time to process a claim is 30 days. Our goal is to process 95% of our claims within 15 days—this quick turnaround time may help prevent a phone call or might even answer a question before it's asked. Rather than be reactionary, it's our goal to manage processes as efficiently and proactively as possible so that we're solving issues before members contact us.
Our culture sets us apart and it shows—in most call center environments, employees usually stay for about 6 to 12 months. In contrast, our Member Services teams have an average length of service of three years. Many employees from our Member Services teams continue their careers at Select Health—50% go on to assume operational and leadership roles within the company, making it much more than a job, but a long-term career. We're not a typical call center, and I attribute that to our service model.
We're here for our members
I can think of numerous examples of how we've been there for our members—during both happy and difficult times. One meaningful experience will always stand out to me: A member called us after his wife passed away from cancer. After going through what had to be a life-changing and devastating experience, he called to express his gratitude with how we interacted with him. He thanked us for covering an insurmountable amount of services that he wouldn't have been able to pay for on his own and for helping him sort through many confusing bills. He thanked us for showing care for him during such a difficult time.
We help members with many types of social and economic backgrounds. We recognize that the stress of health concerns can cause emotional and financial hardships—circumstances so difficult that members may be at risk of harming themselves. We take these situations seriously, and it's our job to make sure these members immediately get the care they need—we'll refer them to a suicide hotline, ensure they get a welfare check by a member of the police department, and connect them with a behavioral health case manager. This is our opportunity to make sure the member is safe (first and foremost), ensure they get the care they need, and find follow-up support.
While it is our goal to provide a good product, it's ultimately about making a difference in the lives of others. We might have just one opportunity to intersect with a member, and it's our goal to make that experience a safe and superior one.
Commitment to service starts from the top
Select Health has always been committed to its values and service commitments—and those have always fallen in line with my own values. I've never had to worry that I'd feel conflicted with the way we do business or how we treat our customers. During my time here at Select Health, I've seen our leaders and teams consistently work hard to do the right thing.
Our culture of service comes from the top, starting with our CEO, and is exemplified by all our leaders. Our service model is a deliberate approach because of the ripple effect it has on every other team member at Select Health. We put a great deal of resources toward supporting our members—solely because this allows us to care for our members as individuals and human beings. And while that's a really difficult thing to measure, it's just who we are.
Related: Why Transparency is Essential to Help Lower Cost of Prescription Drugs