General Updates
Rob Hitchcock selected as Select Health president and CEO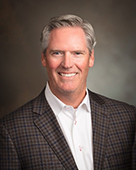 Rob Hitchcock has been selected as the Select Health president and Chief Executive Officer. He joined Select Health as the president of government programs and Chief Value-Based Officer in August and began serving as interim president and CEO in November 2022.
Before joining Select Health, Rob built a distinguished 25+ year career in executive leadership roles for national insurance provider organizations including Centene, Blue Cross Blue Shield, and Humana. Most recently, he served as the Chief Operating Officer for Carelon, a division of Anthem.
"Rob has demonstrated keen ability in building positive relationships and collaborating across the organization while serving in the interim role," said Nannette Berensen, Chief Operating Officer for Intermountain Health. "I am confident he will continue providing great leadership to the Select Health team and build on partnerships within the enterprise in his permanent role as president and CEO. This is an exciting time for Select Health, and I am confident in Rob's leadership and ability to enhance and grow Select Health in existing and new markets to better serve members. I look forward to seeing the impact his leadership will have in the communities we serve."
Rob holds a Bachelor of Science degree in economics and a Bachelor of Science degree in sociology from the University of Utah. He also holds a Master of Health Administration degree from Virginia Commonwealth University. He and his wife Michelle are proud to call Salt Lake City home.
Agreement Notice Change
For those appointed with Select Health, the Notices Section in Article V of each Agent/Agency/FMO Agreement is replaced with the following:
Notices. Any notices will be sufficiently given if sent by registered or certified mail, postage prepaid, addressed or delivered as follows:
A. To Select Health:
Agent Relations
Select Health, Inc.
P.O. Box 30192
Salt Lake City, Utah 84130-0192
B. To Agent/Agency: Any notices to Agent/Agency will be sufficiently given if sent by email or mail, postage prepaid, addressed or delivered at the current address for Agent/Agency on file with Select Health.
A party may change its address in writing to the other party. Any such notice will be deemed to have been given, if mailed by first class U.S. mail to the last known address as provided herein, on the fifth day after the date on which the notice is mailed. Select Health may change company contact information for notices by sharing updated information through the Agent Newsletter.